---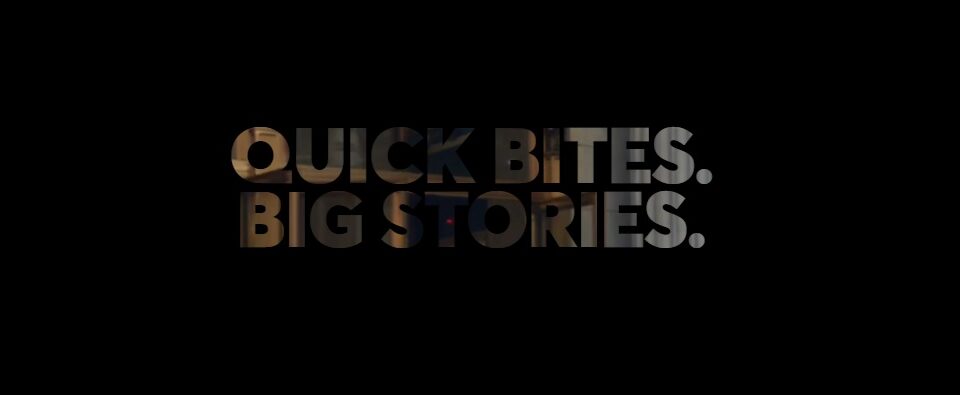 Ok. Here goes. Two years from now I may look back at this story and say ooops. There may be a new category at the Emmys and Oscars for best TV show or movie lasting 5 minutes or less. I mean the Grammys has a spoken-word category for God's sake. But from the first time I heard that there was going to be a paid streaming service built on delivering mobile-only content in very small chunks I was frankly baffled.
There are so many reasons to think that Quibi will not work. While I was at CES I asked almost every single person I met with if they thought Quibi was a good idea. Very few thought so. I know, Ryan that's not exactly a scientific poll. At least I will admit that much.  Why am I so down on the idea? Am I just out of touch? Maybe. I mean maybe I really don't get it. I admittedly found myself scratching my head at the idea of a TV that adjusts to portrait mode so that users can use it for Instagram even though some very smart people at Samsung bragged about how innovative it was. It could very well be that sitting in front of a TV shaped like a phone and watching a service with ten 5 minute shows with commercials in between each episode will be a combination made in heaven. But here is why I think it will not work.
Its intended audience
Until millennials show some interest in paying for video entertainment then targeting them is about as fruitless as the Keto diet. This is the generation that popularized the "word meh. You know as in what do you think of Quibi, well it's Kinda "meh". It means I'm not really impressed or it doesn't capture my attention enough to ……… wait what I fell asleep. This generation does not pay for its access to Netflix, has not purchased a home, and has not moved out of its parents' house. The idea that it will sign up for a $5.00 service so that it can watch short-form content when there is so much free short-form content available is frankly absurd. There is already something called YouTube. There are memes, and of course whatever pops up after Tic Toc and whatever pops up after that. Think about it. Millennials made Vine a thing and then it died almost as soon as people outside of the clique acknowledged it. Quibi. Bless your heart.
Content costs
The YouTube and Tic Toc comparisons may not be fair. After all, Quibi has enlisted people like Stephen Spielberg to make content for the service. Reece Witherspoon and other Hollywood names are planning to jump aboard. Zac Efron, Idris Elba, Kristen Bell, Chrissy Teigen, Kendall Jenner, Tyra Banks, Steph Curry, 50 Cent, and Anthony and Joe Russo are part of the party. According to the Verge, the cost of some of the content will be as much as $125,000 a minute. That works out to be about $7.5 million an episode — on par with early Game of Thrones episodes. That's absolutely incredible. Take a second to wipe your screen off. And if you were reading this while you were waiting for coffee, (the target time slot for potential Quibi viewers) make sure they have not called your name or a close approximation of it.
Yeah, the service is built on the idea that people will consume it while they are out and about, not at home relaxing. Otherwise, there would be plans for a TV-based app. But Quibi will be mobile-only. Isn't that exciting? That way it can appeal to the people who haven't bought a TV yet. It is built as though the optimal way to watch content is a five-inch screen even though over the last 70 years we have been increasing the size of TV screens. But watching TV on the phone instead of TV is cool though.
Too Many Commercials
So, think about this. Part of the idea of Quibi is that you can have an hour of content broken up into little pieces. So we can assume that if you do not have the $7.99 commercial-free version that each segment will include a commercial before the feature presentation. Imagine watching a commercial, and then a 4-5 minute show and then another commercial and another 5-minute show. If you did that for more than a cycle or two you would be so done. People used to complain about Hulu's commercials and they are far less frequent. YouTube will not even allow creators to insert commercials into a video that is less than 10 minutes. Do you think people with their phones in hand are going to just keep sitting there doing that all day instead of making it look like they have puppy noses or commenting on their friend's enchilada?
Storytelling
Real quick question. What was your favorite minute or two of the last episode of your favorite show? Mine was when a John Diggle found what seems to be a Green Lantern ring at the end of an hour-long episode of Arrow. And you know what was so cool about it? The idea had been teased for years.  The character was introduced 7 years ago, fans began to compare him with another character from DC Comics and over time more and more references to his eventual future dropped. You can go back over through previous seasons and watch it develop. Because that is how storytelling works. Think about how much of any given TV show is just filler time. Side quests if you will. A crime show often has a number of dead ends including the guest star from another famous property. A drama may have a scene with a big breakup or a visit to the doctor's office for the results. So how about 4 minutes in the waiting room and an argument at the front desk followed by credits.  Then the next episode brought to you by the new beard grooming razor is the doctor saying it might be cancer. The end.
There is a form of storytelling that has been around since before the Greeks. We will explain it in terms of Avengers End Game. (Exposition)-the intro, They try and get the stones back from Thanos fail and jump forward 5 years. The Avengers are spread out on their own, Hulk is now smart, Thor is fat, Hawkeye is pissed, Iron man is raising a family and Cap leads small groups. They come back together.  (The Rising Action) The plot really gets moving. 5 years after the snap and agree to take part in the time heist and collect the infinity stones and along the way resolve multiple emotional threads, Tony connects with his father man to man, Thor gets a chance to connect with his mother face up to his failure and get advice that will lead him forward through the next phase of the movie and the MCU, Hulk learns the nature of time and Natasha sacrifices herself for her friends. (Climax) This is the part with the explosions. The Hulk snaps his fingers, Hawkeye's wife calls…I'm gonna tear up again.. and Booom Thanos levels Avengers headquarters. Over the next half hour the screen fills up with returning heroes and the battle of 5 or more armies commences, Spiderman hugs Iron Man and meets Captain Marvel and Iron Man says he's Iron Man snaps his fingers and Thanos and his army are turned to dust. (Falling action) We won Mr. Stark, Iron Man dies in his wife's arms. (Resolution) A happy or sad ending. Iron Man is laid to rest in an emotional farewell attended by the heroes and this one guy who might be from Iron Man 3. The Heroes go their separate ways including Thor and the Guardians of the Galaxy with Star-Lord in charge of navigation "of course". And it all gets a bow when Cap goes back in time to have the dance he promised 16 movies ago.
Time inconsistencies or not Avengers Endgame not only follows the classical plot point outline but also in a meta way tied all of the first 20 movies together like one giant movie.
How in the world is Quibi going to do anything like this 5 minutes at a time? Can it tell fully formed stories in five to 10-minute chunks in a satisfying way with consistency? We know Pixar can. But can Tyra Banks? And can it do so, so well that people say this is definitely worth as much as Hulu or Disney+? Or will it give us the 5 minutes of short story chunks that feel like parts of a normal 30 minute or 1-hour programming block?
Keep in mind, Apple TV+ is currently doing so poorly with a similarly well-known group of creators that execs have gone out of their way to point out that profits from the service are immaterial to the company at the time. It's a clever way to say "It doesn't matter if it is going nowhere right now because we have so much money because we are Apple". And this is Apple. The most popular maker of mobile devices in the country with millions of TV apps as well. A universe more worth of brand recognition. I mean it's Apple. And it's not working so far. But Apple can play the long game. Quibi is more like Movie Pass. It plans to throw millions at projects in the hopes that it will catch on and lots of people will sign up before it runs out of time.
Quibi sort of rolled out at CES 2020. Will it exist by CES 2022? Tune in to find out, 5-10 minutes at a time.
---
Trending Now
You may also like