---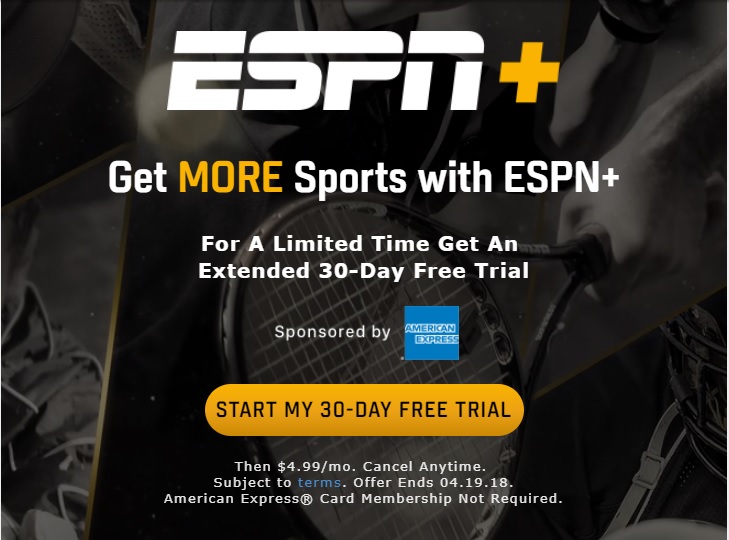 ESPN+ made waves before it ever launched as a service being hailed as the first way to get ESPN without having any other subscription service at all. Its been called a cord cutter friendly sports service and is routinely called ESPN without cable. But what do subscribers really get out of the $5.00 per month subscription?
ESPN+ Is Not the Same As Watch ESPN
ESPN+ offers a lot of good things for sports fans. But you should understand that it is not the same programming one would get from having ESPN's cable programming. Watch ESPN, which is a service that is available to ESPN subscribers who access the network via a TV provider get Watch ESPN for free. It acts as almost a mobile or app based version of the live networks and provides users with live feeds of everything they can access on their TV.
ESPN+ has access to a whole different selection of content. During the MLB baseball season for instance there were games available on the service.
NHL
As of the writing of this article the NHL is in action. ESPN+provides tons of live Hockey games. Looking forward over the next 10 days there is a different matchup every day. This is a real great deal for hockey fans who until now were stuck with only packages via regional sports channels or subscribing to NBC Sports Network for limited NHL coverage. Unlike NBC Sports Network, ESPN+ does not require a user to be part of any TV package. The selection of games includes action from across the NHL. You might not be able to catch your favorite team every game, but if you are a hardcore hockey fan you will probably really like the setup.
Big for Soccer Fans
I'm not going to get into whether it should be called Football 🙂 ESPN calls it soccer so I'm sticking to it. What ever you call it, ESPN+ has a lot of it. Tons of matches from a number of sources. Italian Seie A Live and replays of matches, MLS Live, UEFA Nations League live. No this is not every soccer league out there but it is quite a bit for the cost. If you require more soccer I have no doubt you can find it on other networks. NBC has some great action for free.
Small Time College Football
When ESPN advertises ESPN+ it throws in a mention of Live College Football. If you are looking for Alabama Vs Auburn you won't find it here. That kind of content is going to be on major networks or even ESPN's primary landing places. But for fans of lesser known teams ESPN+ could well be the first chance to see your school play since you were on campus. For instance there is a game between Harvard and Holy Cross this Friday at 7:00. Try finding that on any national sports networks big board. Heck you might not even see the score in a sports ticker. But there it is on TV and mobile devices. This is not meant to denigrate small programs or Ivy League schools. Its just a fact that the ABC game of the week is unlikely to feature either of these schools any time soon. There are tons of games like this every week with multiple streams at the same time UAB V Rice, Brown Vs Princeton, Wofford Vs Furman etc all at 1:00 on Saturday. This means the service doesn't just choose a game of the week. It just puts it all out there. This is due to digital rights. If you just want to see kids get out there and mix it up without any real worry about affiliation this is a great way to kill a day.
E-Sports
Again like the soccer/football debate I am not here to settle whether video games can be a sport. But ESPN has made an investment in coverage of certain video games. Believe it or not it can actually be fun to watch people play games with live play by play. You probably have to have an affinity towards them already to appreciate it, but there are lots of people who spent hours growing up watching that kid who could not be beat at a given game or checked out a quick play of Mario Cart or something on YouTube. ESPN= coverage of League of Legends is a lot of fun for video game folks. You get to see how people work together and use strategy to get things done, just like the guys on the field.
ESPN Original Programming
ESPN overtime has built quite a library of original content from its numerous TV shows to award winning films as part of the 30 for 30 series. ESPN+has specialized shows on things like Boxing and fantasy sports to replays of shows like First Take. The library of ESPN 30 for 30 films is unmatched. A lot of this content used to be available on Netflix, but as ESPN has gotten more focused on digital content this is the place to find it. If you are a big sports fan, love sports history or even great story telling this library is a treasure trove that you can get lost in for days. I still cheer every time I see Lorenzo Charles put away Houston in the 1983 NCAA Basketball championship game whether it is from the perspective of Survive and Advance (the NC State version of that season) of from PhI Slama Jama (The Houston Cougar perspective). The content is broken up by season and topic.
So in the end is this a great service for cord cutters? Yes. But I would venture that it is a great addition for any sports fan. You are not going to find all the hockey and soccer coverage anywhere else for that price nor will you find that library of sports history. The college football may well be the answer that fans of lesser followed programs have been looking for and the chance to catch up on ESPN programming in general is pretty convenient. So if you are wondering if ESPN+ is right for you, take a second and get in on their free 7 day trial. You may be very glad you did.
Feature Picture from screen shot of ESPN.com
---
Trending Now
You may also like