---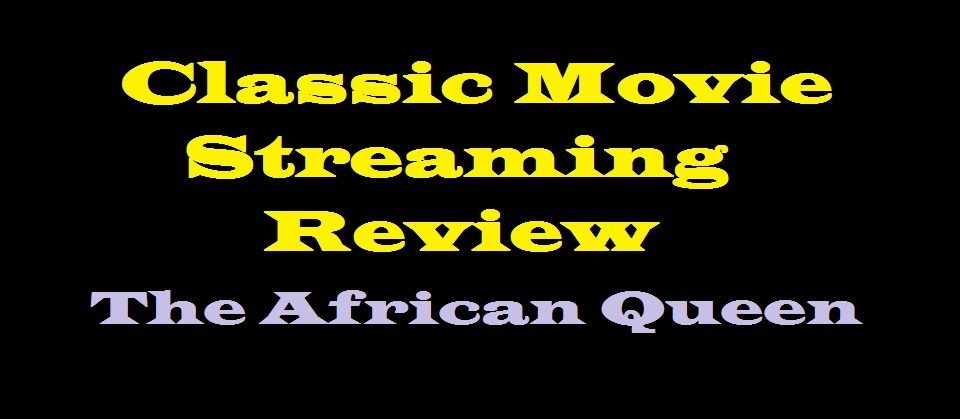 By Corey Laiton
The African Queen is an example of a great story done well.
Winning Humphrey Bogart his only Academy Award, "The African Queen" set in 1914 Kungdu, Africa is based on C.S. Forester's 1935 novel of the same name. The WW1 adventure was a hit with its audience and a blockbuster in 1951.
Premise
Methodist missionaries, Reverend Samuel Sayer, (Robert Morley) and his sister Rose Sayer (Katharine Hepburn) meet Charlie Allnut (Humphrey Bogart), the filthy and unshaven captain of a cargo boat when he docks to bring supplies to the small missionary at Kungdu.
Charlie tells the reverend and his sister that he will not be back for some time because war has broken between England, the Sayer's home, and Germany. Charlie is invited to have tea share more information and we see that the prim and proper Rose is disgusted by him. He chews with his mouth open and his stomach growls constantly. He leaves promising to check in.
The Germans attack the mission while Charlie is gone, drive off the locals, and severely beat the reverend to the point of death. Charlie arrives after her brother's passing and takes Rose away on his boat "African Queen". Rose convinces a reluctant Charlie that they need to help fight the Germans. She makes a daring plan to sink the German boat that is preventing the British from going up the river. To complete this mission they will need to travel through numerous whitewater rapids and a German-held fort. Will they EVER find a way to connect? It's a well-done story where the characters have to overcome numerous obstacles to even get a chance at the goal itself.
Critics Note Music:
The score on "The African Queen" can be over-the-top and felt like it was more forced then it needed to be but it didn't take anything away from the movie itself.
Other critical Acknowledgements
John Houston was nominated for Best Director and for Best Writing along with James Agee. Katharine Hepburn was nominated for Best Actress but was beat out by Vivien Leigh for her work on "A Streetcar Named Desire".
(1951)            PG       IMDB 7.9/10

Director

John Houston
Writers
James Agee
C.S. Forester
Marcia's 2 Cents Worth on "The African Queen"
3 out of 5 stars "A good story for those that like a classic (Spoiler alert) happy-ever-after story".
Q Me "If I was to watch this film again would you watch it with me"?
A Marcia: "I would but I probably wouldn't pay much attention to it again. I'd be on my phone a lot of the time."
Where can you stream "The African Queen"
Netflix             With Subscription
Amazon           For Rent $2.99 SD  $3.99 HD
Vudu               For Rent $2.99 SD  $3.99 HD
IMDB Film Profile
http://www.imdb.com/title/tt0043265/?ref_=nv_sr_1
Academy Awards
http://awardsdatabase.oscars.org/
---
Trending Now