---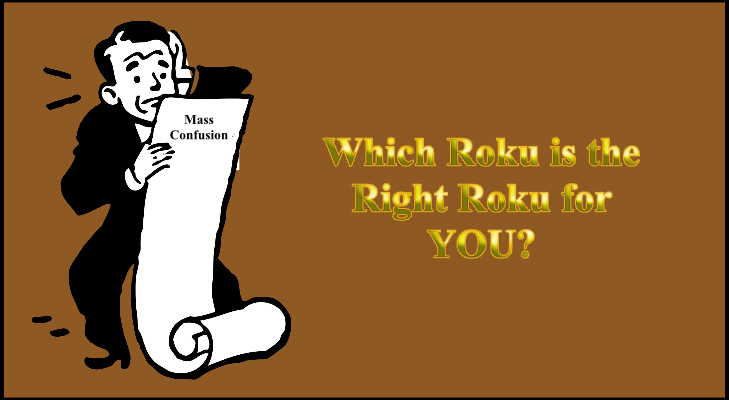 This question comes up all the time. "I'm wanting to purchase a Roku so which model should I get?"
The truth is that there's no real right or wrong answer to this question, but rather which model best suits your needs.
Let's get the biggest question out of the way first. One model does not give you access to more material or streaming services than any other model does. All models has access to the same streaming services. The major differences are going to be primarily which features outside of streaming the devices offers its users. All of them can provide you with up to 720p or 1080p quality picture via the TV's HDMI port, one model can be used on CRT or square TV's to deliver a 480i quality picture via RCA cables, which is the same quality as your DVD player. And a few select models can provide 4K quality.
All models connect to the internet via WiFi but only one will connect via Ethernet to take full advantage of the highest speeds that your ISP offers.
Some models have better WiFi reception than others so they can be located further away from your router. If you live in an apartment, then this would be of little concern for you, but the larger your home the bigger issue it may become.
Another issue to consider is the remote control that comes with the device. If you have a tendency to lose (or break) your remote controls then it may be worth while to side step some models and focus on others instead.
Hopefully this guide will help you pick out the right Roku for you so that you have the best Roku experience.
Roku Express:
There are two Roku Express models at the entry level. They are like basic bare bones cars with hand crank windows, manual transmission and without a radio. You don't get anything fancy like power door locks or windows here. When talking about the Roku Express, you're talking about getting the Roku at the cheapest possible price but you don't get anything extra either. Due to its small size WiFi reception may be lacking if the device is on a different level or several rooms away from the router.
Both models come with the infrared remote control meaning that it needs to be in line of sight (you have to be able to see it and point the remote at it) for the remote control to work. If it is convenient for you the device can be plugged into a USB port on the TV set for power. One big advantage of this set up for anyone who's ISP has a data cap  is that the Roku Turns off once the TV is turned off. This prevents the Roku from streaming when you are not watching it.
Express
At under $30 (On sale right now for $24.99 through the website) you get the Roku as basic as it comes. You get the device, the power cord which can be connected to either the USB port on your HDTV or to a wall socket using the included adapter. Everything you need to start streaming.
Express+
This model has the unique feature of allowing it to be connected to a TV set via RCA cables, in much the same way that DVD players or some older gaming consoles like the original Xbox or PlayStation models. If the RCA cables are used it will default to the 480i resolution and if you go into the settings menu you can choose between 4 x 3 (the old style square TV sets of the 20th century) or 9 x 16 which is what most HDTV's use today. This may be a consideration if you have an older TV that still works but want to use it for more than just watching DVD's or playing video games with.
Thinner then the Roku Express, this will connect directly into the TV's HDMI port making it more concealable. With most TV sets the Stick will be out of sight giving your entertainment center a much cleaner look and drawing power from the USB port means that it is less likely to have a clutter of cables tangled up behind your TV set. The Stick is quite quick and responsive, much improved over its predecessor (Purple) Roku Stick model. If your spouse is one who is tired of having a clutter of devices under the TV set like gaming consoles, DVD/Bluray players or other electronic toys, then its a great device to have without sticking out like a sore thumb, but keep in mind that you'll want to remain on the same floor as your router and in one of the surrounding rooms or you may have issues with buffering. It also has a far better remote than the Roku Express model that does not require you to point directly at the stick which gives any TV a smart TV feel. It can also be programmed to control the volume on your TV (on most TV models) and be used to turn the TV on and off.
This model Roku is nearly identical to the other Stick other than two unique features. This one will provide you with 4K quality video and it also has a built in WiFi amplifier. This allows the device to pull in a much better signal throughout the home. As mentioned earlier, this model uses the same remote control and can be used to control the power and volume on most TV sets. You will be prompted to set up the TV controls on set up.
The Roku Premiere
Looking at the device you can't tell it apart from the Roku Express, it uses the same case as the entry level device but it will provide you with 4K quality video. It also comes with the basic infrared remote control that comes with the two versions of the Express. It can connect to the TV via the HDMI cable and draw power using the included USB cable or you can plug it into the wall outlet in the same way as previous models. You will need to set it up so that you have line of site in order to use it.
The Roku Premiere+
This model looks the same as the premier but comes with the same remote control as the Roku Stick models. This will allow you to use the voice search feature as well as control the TV's volume and power with the Roku remote control, features that can have some serious appeal.
Roku Ultra:
Ultra is the flagship model of the Roku fleet of devices giving you features that are unavailable on any other model. For starters it will provide you with 4K quality streaming. It can also connect to the internet via WiFi and by using an Ethernet cable. Connecting with Ethernet is a major factor for many users because this will give you the full capabilities of your Internet Service Providers speed. Most WiFi routers will only give you speeds of 30 to 50 Mbps regardless of what speeds you've signed up for. So when you pick your favored Netflix series the video will start playing faster this way than it will using the WiFi.
Another feature of the Ultra is the ability to install an SD Card. This is a neat feature if you have a wide selection of Roku Channels or games installed on your account. If you have more channels than the Roku will store internally then it may download a lesser used channel from the internet prior to opening it. Using a SD card means that it will already be installed on the device and become available much sooner to you.
The Roku Ultra has a USB port that allows you to watch videos in the event that you don't have any Internet service. If you rip any of your DVD's or Bluray discs and save them on a flash drive (in MP4, MKV or MOV format using h.264 codec) you can watch them using Roku Media Player which can be installed using the provided link or installing it via the Streaming Channels store like you would Netflix or Hulu. You can find instructions on how to rip DVD's or Bluray discs and converting them to the proper format using Handbrake right here at The Streaming Adviser under the Plex category using the same principle.
Remote control finder is another useful feature. If you look at the top of the Ultra you will find a button that will cause your remote control to beep or chime until it is located.
The remote control for this device is similar to the one that comes with the Stick and Premiere+ models except that it also has buttons for gaming, this is the "enhanced voice remote control" that you can see at the Roku website.
Considering the Remote Control:
All Roku models (including any TV with Roku built in) can be controlled with the Roku App you can get for your smartphone, but as mentioned with the Roku Stick, because that model won't see infrared signals, it is useless unless connected to the internet.
Many universal remote controls today can be programmed to work on a Roku and you can find them in most box stores like Walmart or Target for reasonable prices, but you won't get any frills using this and some features may not work as intuitively as it dose with the equipped remote.
The standard infrared remote control that you can purchase for under $15 will work on all models except for the two Stick models.
Voice remote provides you with the ability to do voice search as well as work on your TV set. Most Roku models currently on the market will allow mating to this remote control, but I have doubts for many of the previous generation models.
If you upgrade to the enhanced voice remote control it will not only allow you to have a wider selection of games to play but with some models it will enable the remote locator through the menu settings. While this may seem redundant at first glance, trust me when I say that it's nice to be able to either pull out my infrared remote or open up my phone app, access the settings menu on my Roku then tell it to activate the remote locator after I've babysat certain young family members.
Not that I'm complaining…
Well… not too much anyway…
OVERVIEW:
Each model does offer some features and has some benefits which will be handy while or may have certain drawbacks that make it the less ideal choice for you. Do you live in a large or multi level home? I would suggest the Stick+ or the Ultra models if the Router isn't centrally located or not on the same floor as the router.
Do you do some traveling and want one for the RV? Consider the Ultra. The ability to use it without internet access means that you can still put it to good use on those occasions where you have not internet service where you bed down for the night.
Want to put that old TV that still works to use? The Express+ is the ideal choice for you.
Looking at getting someone the perfect gift or not sure that you're willing to buy into this whole streaming thing? Get an Express. With its low price point it can be a great gift for someone or be the perfect device to try out without feeling like you overpaid.
Just purchased that 4K TV and want to access as much 4K content as possible? Maybe one of the Premiere models or the Stick+ are just the ticket!
Getting tired of the kids loosing the remote control? Get an Ultra model, or maybe even try purchasing the enhanced voice remote for your current model.
There's plenty to choose from and what may be right for you might not be right for someone else.
---
Trending Now
You may also like