---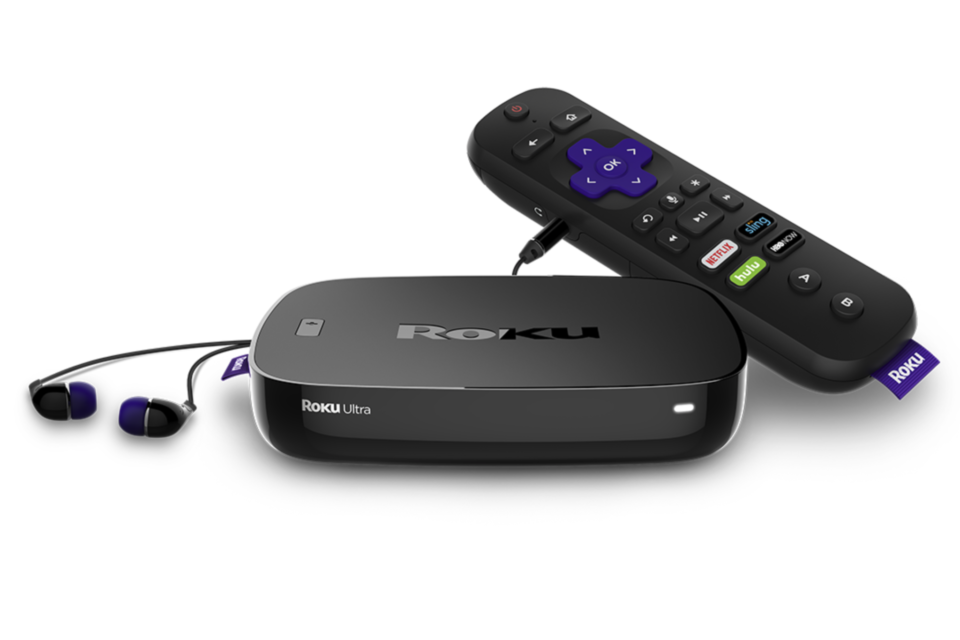 Roku continues its march towards streaming simplicity with the newest edition of the Roku Ultra. The newest device does not add any innovative new features straight out of the box but instead offers up the strong performance longtime Roku users would expect from a device from the company. Roku has spent the better part of the last decade honing the look and feel of its hardware and software to a point where it does not change a great deal from generation to generation, which would make for a less exciting big stage show if the company did Apple-style events yet, on the other hand, it allows customers and even prospective customers know what to expect. This is not to say that the new Roku Ultra is not a great device. So let's talk about what it does.
Full specs for the device:
Roku Ultra Networking
802.11ac MIMO dual-band wireless
10/100 Base-T Etherne
Roku Ultra TV Compatibility
HD TVs – Up to 1080p (1920 x 1080) with up-scaling from 720p
4K UHD TVs – Up to 2160p at 60fps (3840 × 2160) with up-scaling from 720p and 1080p
4K UHD HDR TVs – Supports HDR10
Roku Ultra Ports
Power, HDMI 2.0a, Ethernet 10/100, microSD, USB
Roku Ultra Audio features
DTS Digital Surround™ pass through over HDMI®
Roku Ultra Storage expansion
microSD card slot for additional channel storage
USB port for local playback
Roku Ultra Remote control
Voice remote with TV power and volume buttons as well as voice search, headphone jack, and gaming buttons
Speaker for lost remote finder alerts
Player includes IR receiver, compatible with various universal remotes
Roku Ultra Power consumption
<4.5W (typical) when streaming
Roku Ultra USB media formats
Video — H.264/AVC (.MKV, .MP4, .MOV), H.265/HEVC (.MKV, .MP4, .MOV); VP9 (.MKV)
Audio – AAC (.MKV, .MP4, .MOV); MP3(.MP3, .MKV); WMA (.ASF, .WMA, .MKV), FLAC (.FLAC, .MKV), PCM (.WAV, .MKV, .MP4, .MOV), AC3/EAC3 (.MKV,.MP4. .MOV, .AC3), DTS (.MKV, .MP4, .MOV), ALAC (.MKV, .MP4, .MOV, .M4A)
Image — JPG, PNG, GIF (non-animated)
Roku Ultra Weight
8.0 ounces
Roku Ultra Set Up
Setting up the Roku Ultra is simple but it does require a few things
A free Roku account
An internet connected computer, cell phone or tablet
A credit or debit card
A High Speed HDMI Cord
You need to know the name of your internet network and if needed password
Place your High Speed HDMI cord into the back of the device in its designated port and plug the other end of the cord into the HDMI port on the TV and plug the power in to get started. The Roku will immediately walk you through the rest. Choose the correct language for your experience and the device pretty much walks you through the initial set up which includes getting the device connected to the Internet and downloading the latest software updates if needed.
If you have not ever set up a Roku account you should do so before you go any further. Do so and stay signed in to the account on your browser.
Why Do I Need A Roku Account?
The computer comes into play when its time to connect the Roku to an account. You will be asked if you have a Roku account or if you need to create one. A computer will actually be the easiest device to use for set up but a cell phone or table can be used as well. For those who already have an account the smaller screens will suffice but if you are setting up your first Roku a full keyboard and larger screen really helps things along. The reason Roku has accounts is for continuity and to make it easier for you to set up apps that bill you like Netflix or Hulu. Many channels on Roku are free but setting up an account and registering a credit card means that if you choose to check out a paid service it becomes as simple as clicking a box to sign up for a service.
Does Roku Have A Fee?
No Roku devices have no fee or monthly charge. They keep a credit card on file so that you can pay for services from their partner apps. If you never sign up for anything that costs money you will never be charged. Also, if you are downloading a channel that requires a fee you will be prompted with a very obvious screen that asks if you would like to use the card and user name on file to sign up.
Linking account and installing channels on a Roku Ultra and Aligning Solar Panels and Satelites
After connecting your device to the Internet and updating the software you will then be prompted to go to the Roku activation screen on a browser. The Roku will tell you where to go and give you a code with numbers letters or both to type into an obvious block. Once you have done so your Roku will connect to your account. You can also use this screen to sign into various channels on the computer so that they are already set when they device loads. Things like Hulu, Amazon Prime etc. Roku will also prompt you to add channels with pre-selected options. If you don't want these channels just tap the check mark to let them know you don't want them. Great feature to note though, if you already have set up a Roku and have channels installed the device will then install all of your channels. This will typically take around 30-45 seconds per channel. This means if you are like say The Streaming Advisor this will take a bit of time. But if you don't have close to 500 installed channels it should take a few minutes.
Roku doesn't really use solar panels and satellites to set up the device. All setup is handled by oompa loompas
Universal Roku Features
This section of the review is to acknowledge that there are some cool features available on ROku's platform that are common with all players and Roku powered TV's without acting like they just created it yesterday. I do this because people who have been using Roku products for 5-10 years know this already and If that is you please skip to the next section. For those of you who say what is Roku all about please continue on.
Navigating Roku's Menu
Roku has built itself on a straightforward approach to providing streaming content no matter who creates it. This has led Roku to design one of the simpler interfaces in the consumer streaming world and smart TV world overall. Roku's all have a basic menu with a horizontal list on the side with simple descriptive headings. These days they include Featured Free (premium content that is available without any type of subscription service), My Feed (an interactive section that allows users to pick shows or movies that they want to find on the platform when they are available), Search (A powerful tool that
allows users to look for movies, and actors across a huge number of Roku apps including all of the most well known ones like Netflix, Amazon, Hulu etc and so many more), Streaming channels (Roku's app store) and Settings (….it's the settings for the Roku).
There is also the optional TV and movie stores which link with Fandango's rental service.
Roku App Support
If you have a smart phone or tablet you can use the roku app to do a lot of little extras on your device. The app gives users the ability to use a keyboard in the Roku search as well as searching within apps, It provides a quick launch for channels, it allows users to play videos and show pictures from their phone on the TV and lets users take advantage of private listening through their wireless device.
Channel Interface
Once you start building up your app selection it is organized in a 3 by 9 grid. This means that you will only see 9 installed apps at a time as you cycle through them. The apps are placed in order of when you added them. This means the newest app will always appear at the bottom of your list. The apps can be moved around the grid by pressing the * button and selecting Move Channel as seen here.
Streaming Channels Store
The channel store Streaming Channels is very well organized by genre/topic so that users can scan through to find something that interests them. It also has categories for the newest additions and things like most popular free etc. I have found it to be one of the most extensive channel stores available for TV content. It is by far the most straightforward and accessible. Want music apps, its obvious where they are. Sports apps are listed under sports. You will have no flashback to the days of the Yellow Pages.
Cross-Platform Search
When some people talk about Roku and other streaming products they use the term Universal Search to describe the search features on the device. This is not an accurate way to describe the search on Roku. Why? Because Roku has thousands of channels/apps and the search does not include each and every one of them on its search results. But I can say due to extensive experience with all of the top streaming platforms that Roku is by far the most inclusive. While many products allow searching to cover say Netflix, Amazon Video, Hulu, Crackle and other big name apps, Roku includes very small players in the results. There have been a number of times that I have discovered apps just because they popped up in results. It helps solve the problem that has emerged since hundreds of apps multiplied to a seemingly infinite number over time. If that old TV show or independent movie you saw in college is out there on some service, you have a better chance to find in on Roku than on anything else. The search is almost google like in its scope at this point. And when you are talking about the more mainstream content you might be very surprised to find out that something you like may be free on one service and cost $10.00 to rent on another service. This is the power of a robust cross-platform search.
Roku Ultra Specific
Ok let's get Ultra-specific now (See what I just did there). The Roku Ultra has some features that set it apart from a number of other Roku models included in the current lineup of products, but in some cases not exclusive to this model.
Controller
The Roku Ultra controller has a couple of major features that are only found on ROku's highest end products including Roku Ultra and the new Premiere +. The Roku Ultra controller can be synced with most any HD TV in order to control the volume and turn the TV on and off. That means that when you are streaming you can ditch the TV remote and control the whole experiance. This is a real blessing for Roku users.
Remote Finder
Admit it. If you live with someone else you have had at least one argument about where the remote control is hidden when you or the other needed it. "I wasn't the last one to use it". With the Roku Ultra says like the Rock "IT DOESN'T MATTER WHO WAS THE LAST PERSON TO USE IT" The Roku Ultra has a button on it that will make the remote beep when you can't find it. Or when you want to annoy your daughter when she falls asleep on the couch. Haven't you always wished your TV did that, and your keys or your wife's keys or a little kid's shoes….. Sorry let me get back to TV. To say that the remote finder feature is invaluable is a big understatement. Roku was the first to work in that feature and it has been copied since. But soon with their OS update, you will be able to search for the remote while lurking through your castle to the Game of Thrones theme.

JBL Headphones
Roku's highest end model has always shipped with headphones. This started with the Roku XS, which was the first model to include private listening  as an option. But the new Roku Ultra includes a free pair of JBL ear buds which are considered premium headphones and have an over $30.00 value  on their own. If private listening is not something you feel you need to take advantage of, pack the headphones in your travel bag for when you need them on a plane ride with your phone, tablet or Laptop.
Voice Search
This is becoming a no brainer but not all devices including all Roku devices ship with remotes that support voice search. Roku's voice control allows users to start apps and search for movies, TV shows and actors. The voice capabilities though do not offer things like the ability to answer questions or control things around the home.
4k HDR Support
As pointed out in the hardware info the Roku Ultra supports 4k HDR streaming. This is great when you can find 4k material. Do you need to try out 4k material? Use the 4k Ultra HD Spotlight channel.
Ports and Slots?
The Roku Ultra is the only model of Roku's latest line of products to offer an Ethernet connection as an option. This is a hard wired connection that should deliver the best high speed results. It also has an SD card slot so that you will be able to expand on the storage capacity of the device as well as a USB port that supports access to digital content from compatible USB connected devices
Support for the latest versions of Apps and OS updates
If you have an older Roku model you probably noticed that some of your apps might have been lagging or looking a bit dated compared to what you see in videos and other publications. The Roku Ultra will fix this for you. All of the best and updated apps and interfaces will pop off the screen again. This would be a decent reason to look at an upgrade if you had say, a Roku XS,HD Roku 3 or something from that much earlier family of models.
Roku Ultra as a cord cutting tool
When some people buy something like a Roku, they may be looking to get rid of cable TV and use something new to watch TV. Can the Roku Ultra help you do that? Yes. The Roku Ultra is powerful enough to deliver the best 4k video signals, where available and supports every legal cable replacement service on the market. It also supports all of the most popular on-demand services like Netflix and Hulu as well as Amazon's video service. With a Roku and an antenna you might never look back at cable.
Is it time for an upgrade?
If you have been holding on to an older model of Roku for a 4 years or more I think you will notice a serious upgrade in the performance of the Roku Ultra over what ever you have in place at the moment. It is future proof for quite some time and will offer a major change up from devices like the Roku Streaming Stick, Roku 3 and any item preceding those models. If you bought the last Roku Ultra model you are not going to see a big change. What is important to note when it comes to technology with numerous models like Roku has become is that eventually apps stop updating on various platforms. So not staying up to date can eventually mean that you can't get to services that you once did. This rule applies to pretty much any computer based media and smart TV. The Roku Ultra is a very good
---
Trending Now