---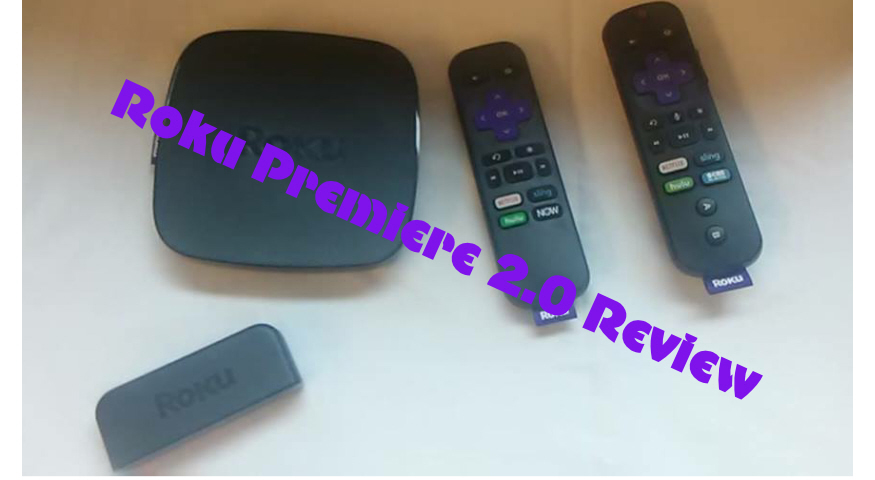 Recently Ryan contacted me to let me know that I had been tasked with the job of reviewing the upcoming Roku Premiere.
God I love my job…
I feel the need to take a slight detour into my history of Roku ownership because looking at the current lineup I think that it puts into full context what this company has managed to pull off in the past few years.
My first Roku, purchased in late 2011, was a purple second generation Roku LT for $50. At the time that I purchased it the only way to get it was to order it directly from the company. A Sears store, located within walking distance of where I lived, sold the popular Roku XD for about $10 or $15 more but I figured that I would prefer save the few bucks on account that I didn't know if it would live up to its hype. That first LT model was able to connect to my living room 40 inch HD TV as well as my bedroom 13 inch tube TV via RCA cables. For a couple months it did double duty for both as I would cart it to the bedroom and fall asleep streaming various TV programs from Hulu or Netflix back when you didn't need to worry about data caps (I still don't) and the device asking you if you're still watching this program or not.
I finally concluded that taking the box back and forth between the two TV's was a bit of a pain and getting a second box would be worth the investment, so I took a look at the Roku Store to see what they had available. Few people today know that during the early days of Roku you could actually order auxiliary parts like replacement remote controls, mini SD cards, power cables and even refurbished Roku's from the company using your Roku! I placed an order for a refurbished Roku XD due to its ability to stream full 1080p HD quality and it was priced lower than my LT model so I placed an order, with some reluctance, figuring that if it didn't pan out I could go to the local Sears store and purchase one.
It panned out.
From my understanding the purple Roku LT is still in use and this is during a time when a cell phone is considered outdated when it is more than two or three years old, the first two Roku models that I purchased easily lasted twice as long.
I bring this up because when the fourth generation lineup became available it shaved $20 off of the $50 price making the Express a $30 device and the ability to connect to the older style TV's only costing you an additional $5 for the Express+. Now Roku has taken its two mid level models from the 4th generation lineup and shaved some serious bucks off of them giving you some entry level Roku models capable of providing 4K quality material for the same price, or even less, than the first Roku that I purchased from them and transformed me into the Streaming guru that sits before you now. Part of their ability to do this is by squeezing all of that hardware needed to provide 4K quality video via the internet into the same piece of plastic they use for the Roku Express and Express+, making them all about half the size as my Roku LT.
To be honest, I've got mixed feelings about this. Its not that I hate the size and shape of these new devices, but I am a bit nostalgic to see a return to the 'square hockey puck' design that the first three generations were well known for. I'm also well aware that in these days of swindlers and ne'er do well's in the streaming world that something that would cause the Premiere and the Express to be more easily distinguishable from each other might no be a bad idea. If not the larger box, perhaps a purple and black color scheme like the LT model from the past?
But I digress.
Once the box arrived in the mail I took a quick inventory to ensure that all of the pieces had arrived.
Okay… I lied. I didn't take a quick inventory, I ripped that box open like Ralphie on Christmas morning hoping to find his Red Rider Carbine action 200 shot rile with a compass in the stock. It wasn't a quick look at the inventory, it was taking each piece out one by one carefully caressing it and looking over each individual piece before laying it gently on the table.
Here's what you'll find in the box:
Roku Premiere
Power cable – USB on one end which will plug into your TV's USB port and micro USB on the other to plug into the Premiere
110 Wall adapter which will accept your previously listed Power cable. Can also double as a Cell phone wall adapter during emergencies.
HDMI cable
Double sided tape to mount your Roku to the TV set or table and hold it in place.
Instructions on how to use your new device.
Remote controls
Batteries for Remote controls
The price for the Roku Premiere is $39.99 and the Roku Premiere+ is $49.99, making the Premiere+ the same price that I paid for the LT back in 2011. The only difference between the two new Premiere models is the remote control that comes with the device. The Premiere+ comes with the enhanced voice remote control, which as fate would have it, I already have in my possession, and the Premiere comes with the Infrared remote control which is every way identical to the remote control that came with my LT model.
Yes, I'm going to talk about both.
Roku Set Up
Setting up the Roku's are pretty straight forward. Clear room behind your TV set and its jumbled masses of cords, wires and cables and figure out which of your many devices you're going to disconnect from the TV set to make room for your new streaming player (Good bye Fire Stick). I opted to use the TV's USB port to test the device then carefully weaved my cables around each other getting every thing set up, placing the new Roku in a position where the Infrared signal could easily reach the device.
The only problem that I encountered with this process is that my included HDMI cable caused my screen to flicker resulting in my replacing it with a new HDMI cable that I happened to have handy solving the problem. I've experienced this same problem a couple of times with the Express models and kinda wish that Roku would just not include them with the device.
Activation
It's been a long time since I've activated a Roku on my Roku account, so I was greeted with a few pleasant surprises.
They have made the website to go to in order to create (or activate your Roku) much more obvious to the new user. The three step design with each step located on a clip-art like TV screen means that you're less likely to miss the website to go to. Far too often I hear about people being charged $50 or $70 activation fee for their Roku because they couldn't figure it out and tried calling customer support and found some third party group pretending to be Roku support. Here, there is no mistaking it!
Once I typed in the alphanumeric code to activate the new device it installed all of my "Roku Channels" already installed on my 2 year old Roku Premiere. A slight hiccup here too, not all of my channels installed and Netflix, while on my main screen, wouldn't actually start running. After doing a quick factory reset on the Roku, to ensure a clean install, as well as rebooting my router, which needs to be replaced… I started the process all over again with this attempt being flawless. (often though you can fix channel issues like this by removing and re-installing them.)
But I need to point out the changes that Roku has introduced to the activation process. Once all of your channels have been installed, your Roku immediately starts playing a tutorial video telling you how to add channels and the different function of keys on the remote control. This video uses the same method that I used to teach my 70 year old mother resulting in her attempt to steal my beloved Roku LT from my bedroom during one visit.
This newer version of the Premiere seems to be just as snappy as my two year old version, even the booting sequence seems to be comparable meaning that using the USB port as its power source does not result in being entertained by the dancing Roku logo. Fairly impressive for the little device.
After the long process of activating my subscription services, Hulu, Amazon, Netflix, etc, I played with the device going from channel to channel with nothing new to report. In fact, the most amazing thing about this device is how underwhelmed you are by it despite the much smaller package it comes in.
The equipped Infrared remote control is the same design Roku has been using for the better part of a decade with the only difference being which quick launch buttons they include. Still have that small design that fits comfortably in your hand along with the well known Levi's jeans looking purple tab at the bottom with Roku printed in white.
Enhanced Voice Remote Control
Linking the Enhanced Voice Remote was simple and easy. You can navigate your way to the pairing screen easy enough by selecting "Settings" then "Remote".
Use App To Find Lost Remote
One added feature that took me by surprise as I was playing with this is the "Find Remote Control" feature actually works! This means that if you loose your remote due to some little kids, something that I've experienced at my sisters place, you can use your Phone app to locate the remote control causing an annoying chime to play over and over again until you finally press a button, or the battery dies.
Control TV with Roku Remote
Programming the higher end remote control also means that you can use your Roku remote control to turn your TV on and off as well as adjust the volume.
Programming the Roku remote control is really straight forward. From your TV screen you type in the manufacturer of the TV you wish to control with the Roku and it asks you if you can hear some music playing on the TV. It then tells you to hit the OK button once the music stops. Once that is done you should have one remote control controlling the Roku as well as the volume and power for your TV set.
Summery
In the days predating the Chromecast and Amazon Fire Stick, finding a device costing under $50 to provide you with access to Hulu and Netflix on your TV where it should be was a real bargain. Roku has managed to do it again with two devices able to bring you 4K quality for under that same price point with one of your options being able to decide how loud, or soft, you wish to hear your programs as well as turn off the TV set when its over. I've not seen the competition bring you that same capability for the price.
If given the choice between the Premiere and Premiere+, I tend to favor the Premiere+ because of the included remote control. It really is deserving of the Plus designation. Even with the prices of 4K TV's dropping in price this device is well worth the investment as a precursor to future upgrade to a new TV set or giving you more access to material that you might otherwise miss if you have a different streaming device. Especially if it lasts longer than your Cell Phone.
---
Trending Now
You may also like