---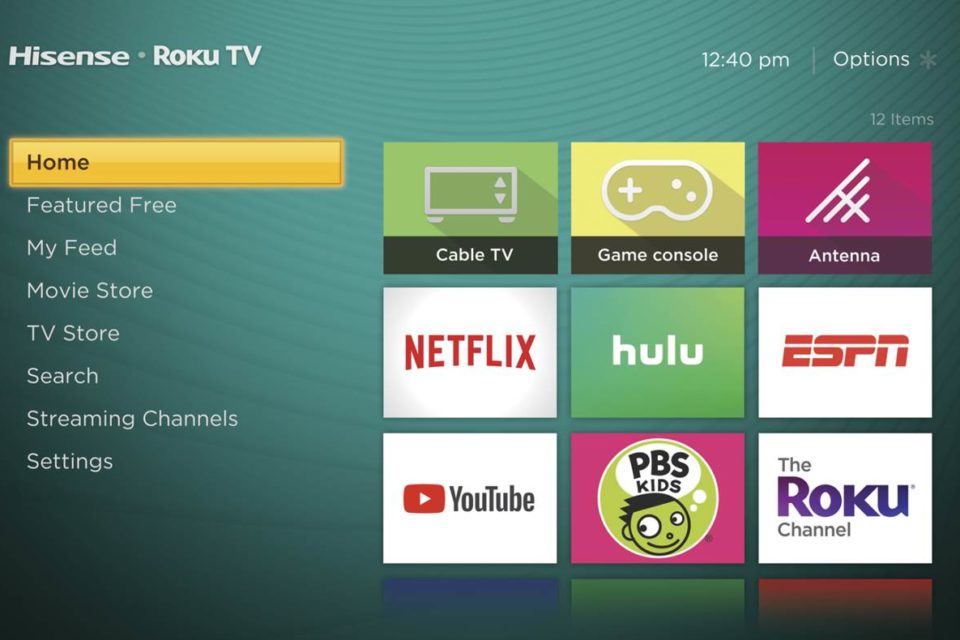 Review of the Hisense R6E HDR 4K TV
The Hisense R6E series 4K HDR TV is a new model from the Chinese company that is known for making affordable televisions in Asia and the US without sacrificing functionality. This is the companies latest foray with Roku as the primary TV OS to go along with Android TV powered models as well as TV's powered by Hisense's own smart OS. First off the bat. The TV comes in 5 sizes;
The prices change depending on the store selling it and the size, so to be sure as to what it will cost you, it will take a little work. But in many cases you will find
the brand lower priced than a number of others.
Simple OS
If you are unfamiliar with the Roku platform it is a TV based operating system designed to be simple and straightforward forward. All of Roku's installed apps are right out front and available from the
home page where they are organized into a grid displaying 9 apps/channels at a time. Roku has an expansive App Store calls "Streaming channels" and easy access to all of the settings and such. Of all the platforms I have worked with I have always found that Roku was the most out front as far as where to find things. This makes it easy for new users to pick up.
What is the difference between a Roku powered TV and those Roku Boxes and sticks?
Hey you in the back. Good question. Roku makes small boxes and streaming sticks that range anywhere from $40-$99 dollars that have more or less the same type of home screen and apps. The difference between having a device and a TV with the system completely built-in is ease of use.
Extra devices always require a little bit of extra understanding. And for us techie types that is almost part of the fun. But not everybody is a techie type. And if someone's buying a new TV or jumping in with smart TV's they might very much appreciate just having their apps and controls in the same place without having to turn around and figure out where their apps are and how to get to them. With Roku powered TV's like the R6E there will never be a time when you have to figure out which port the Roku is plugged into. The system also has a number of very elegant and simple menus that are much easier to explore than a number of smart TV or even conventional TV's I have worked with. We try to cover all of the things that make this set up interesting right here. So let's get started.
What's in the box?
While this TV has the Roku OS built-in we can't concentrate only on the performance of the software. Lets talk about the TV as a piece of hardware.
Included in packaging
Roku inspired remote (Batteries not included)
Two TV stand legs
4 screws for TV stand
Power cord
Expansive set up book in multiple languages
Warranty info
Setting it up
After you have identified all of the important pieces you should get to work with the simple assembly. Something I really appreciated about the initial setup is that the TV stand ports, as well as the stand pieces themselves are very easy to identify. Both of the ports and the corresponding feet are labeled for left and right L and R. They are also deliberately shaped in a way that would make it impossible to put the stand pieces in the wrong way. This is actually a lot more helpful than it sounds when you are putting things together.
Before turning on the TV I recommend starting a Roku account. If you have one already sign in to it from whichever connected device you own.
Upon powering on the TV boots straight to the Roku Setup menu. I like this because it just gets you started immediately. No menu to dive into or button combos to type in. The remote was also automatically synced to the TV. This is not always the case with TV-connected devices across a number of product brands. This makes setup a lot less complicated.
Expert note: The TV asks if you are using the TV in The US, Canada or Mexico.It pays to just be honest from the start. Don't experiment to see what happens if you choose a different country.
There is an option to set up for home or store use. Choose home use.
Network Setup
Network Setup is a breeze, provided of course that you have a home network to begin with. You have a choice between setting up using a wireless, wired network. I prefer wired networks for the speed and performance. In our case this time the TV is using the wireless option and has performed just fine. There is also an option to set up Internet later if it is not available. That is a nice option since it is possible that someone could buy the TV without intending to put it on the Internet initially. They may just want a nice big TV for their cable box or a current media player.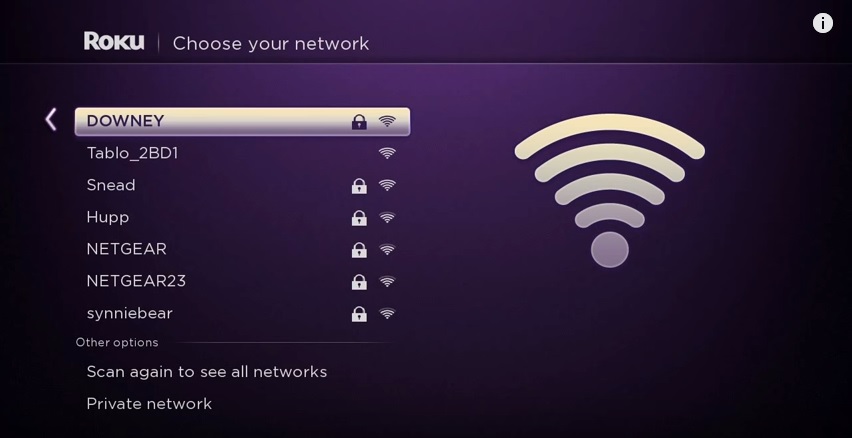 You Need A Roku Account In Order To Get Apps On The TV
During our setup the TV connected to the internet in seconds and went into a software update that also progresses quickly. It actually took a minute or less even over wi-fi. But there is an important note that you need to understand when using any Roku powered TV. You will either have to create a Roku account or link an existing one. An account is free. They allow you to sync all of your devices and payment methods across all of your Roku devices, provided you have more than one. In order to set up an account users must have either a computer or a device that can connect to the Internet. The screen will prompt you to go to the Roku link website and provide you with a code. You will find that the Roku website recognizes that you have a Hisense TV when you verify the code.
Special Notes
After adding link code your browser will prompt you to add channels. I have been getting a warning that

the website has experienced problems. If you get this, refresh your browser and move on. This appears to be a Roku issue unrelated to the TV itself. I have had this happen on multiple types of Roku devices.

If you already have accounts for streaming apps sign in to as many as you can as setup is going on. This will speed things up later.
Channel loading can take a while if you have lots of channels like me. I have 431. Each one loads in about 45 seconds or so, but it adds up. If you are new to Roku or don't mess with  lots of channels you will probably barely notice this.
With Roku boxes getting set up is all about plugging the device into an HDMI port on an existing TV. But a TV centric thing about the TV of course is that it has the Roku built-in which means there are HDMI ports for separate devices. There will be 3 HDMI ports open for anything from a Cable Box or Blu-ray player to a TV connected computer or even competing streaming devices. The TV will prompt you to hook up anything you would like to use to the TV at the start so that the ports can be set up to recognize what is plugged in. If you have a Blu-ray, video game system, cable box or even another streaming player you can go ahead and set it up from the start. We did this including hooking up an amplified antenna. There is an option to do it all later if you just want to get to the Roku side of things. This is one of those killer simple features that sold us on the system.
Once you move to the next screen the TV will ask you what is hooked up to each port. This allows you to identify things ahead of time. Once the Roku is fully booted the ports appear at the top of the screen like channels. If you label them properly things will be super easy-going forward. So make sure you do so. Once each device is set up the TV helps you to identify each of your connected by providing a window which shows what is plugged in to the HDMI. For Instance, if you have an Apple TV plugged into a port you will see its display.
In many cases, the set up will allow you to choose the type of device you are setting up on the HDMI. For instance, there are preset labels for a Cable box, DVD player, DVR etc. The Roku system does not have a choice to identify other streaming devices but does allow you to create custom labels. This means if you have a Fire TV or other items you need to label it yourself. This is not difficult.
Once you are all set there is a simple to follow intro video that shows how to use the TV and its remote. Cool feature to help new users figure it out.
Live TV Recommendations
Something very different about the Roku powered TV experience and say a Roku Ultra or other connected Roku players is that it can make suggestions based on what you are watching via an antenna or cable box. You can opt out of such tracking, but the discoverability option is a cool feature.
TV Channels Setup
This could not be more simple. All we had to do was set up our Antenna and click on the icon that said Antenna TV. The screen launches with two options, "Start Finding Channels and Cancel. The TV will even ask you if you are connecting a VCR to your TV. This is because they often need access to specific channels to work. For those of you who have not used a VCR in 15 years you can skip this but it is nice to include it. Afterwards the TV went right to work scanning for Antenna based channels for the TV. This one click solution was very helpful. Not having to bounce around menus and settings to find the tuner setup is a serious bonus for anyone who has used other smart TV's or even standard HD and 4k TV's. Do you have cable hooked up? No problem. The Tuner will also prompt you to scan for cable channels as well.
HDMI Channel Windows
Once The HDMI ports have been labeled and assigned they are very interactive. For one, just like any other window on the Roku interface, they can be moved around. Not only that simply hovering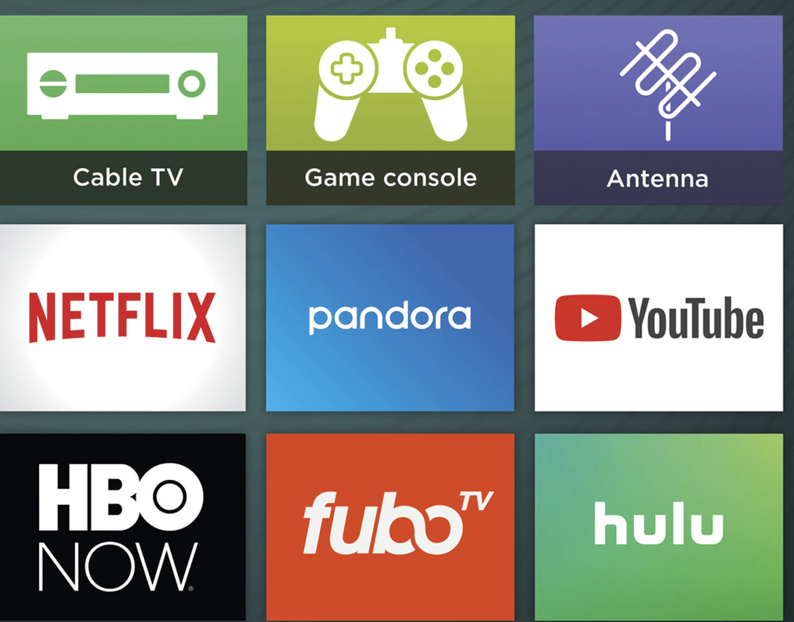 over an input will allow you to see what is happening on the device. It is like a live look in. This means that you can navigate the OS of anything plugged in as long as you have the respective remote. This is helpful for a number of reasons. Chiefly it is great if you are performing an update. Let's say you have a firmware update on an internet enabled Blu-ray player. You can launch the update and move on with your business and check in just by going to the home screen. No need to switch to the input completely. You can also update apps on other devices the same way. The antenna TV window gives you a mini window as to what is playing on the TV. But only on which ever channel you last watched. You can not flip through channels using the mini window. The HDMI input windows can be removed and remade to fit your needs. I suggest you keep them in place if they are engaged.
Remote
The Hisense Roku TV remote is built like most Roku Remotes with the addition of a few new buttons. It features Back and Home at the top, a replay button, an Asterisk/Function button, Scan back and Scan forward and a Play/Pause. It also features quick launch buttons for Sling TV, Netflix, Hulu and DirecTV Now. The Hisense TV has additional buttons not found on other remotes including a sleep timer button, identified with a crescent moon volume and mute. Unlike other high-end products though, the remote does not include a private listening port or a microphone for voice control. If you would like to access private listening the Roku app provides the ability to utilize private listening.
Roku App compatibility
The TV is discoverable via the official Roku App for IOS and Android. If you install the app you will be able to use it as a remote control as well as quick launch apps, launch selected programming, share pictures and video. A great touch is that it will even control the volume with the volume button on your wireless device. That is a really neat feature. As mentioned above it will also allow users to employ their wireless phones and tablets (IOS and Android) to use as private listening devices.
Hisense Based Features
Did you ever misplace a remote and need to operate a TV without it. Of course you have. Sometimes one of the most difficult things to do is to change from one port to another. The Hisense TV has a dedicated button that allows users to go to any video option on the TV including each HDMI and the antenna. You can also turn the TV on and off with the same button via the menu or holding the button down. The only thing you can not do with it is control the volume. In the absence of a remote the only way it appears that you can do so it via the Roku app.
Ports
Headphone jack
1 set of RCA ports
1 USB port
3 HDMI
Ethernet
Line Out
Digital Audio out
Navigating the System
This TV is very easy to operate and it is not just because Roku feels like part of my basic senses at this point. Some TV's send you through a maze of screens as though the designers were too focused on making another cool menu. Roku powered TVs seem to be focussed the same way their boxes are. On simplicity. Accessing the menus could not be more simple. This has always been the case with Roku. Simply toggle down to settings on the home menu. From there one can access every part of the TV without too many other buttons to worry about, no menu or select or setting button to find, just follow the signs like you are driving down the highway. Want to add a remote it is found in a heading called remotes and devices. Want to change the look check out themes pictures, sound setting, even screen saver settings are all available right from this same parent menu.
Audio Options
If a user chooses sound control they will be given a chance to disable and enable the TV's speakers, control the menu volume (how loud the clicks are when you bounce around the menu), and choose between S/PDIF and ARC or allow the system to auto detect. Users can set up the audio setting in any input by pressing the asterisk button. This will pull up the entire audio menu on the left side of the screen. Once inside a channel or even a given HDMI port user can access a number of audio options and sound modes.
Accessibility
This is a very easy product to use if you are visually impaired. At least as much as a video device can be. The system has a setting called audio guide. This is essentially a narrator that reads what is on the screen to the user. "In Home Netflix Button 5 of three nine zero". Once this option is selected which can be done in the settings menu under Accessibility or by pressing the asterisk 4 times quickly each menu item will be read out loud. There are a number of volume options as well as speed options for the voice. Roku also has a number of caption options depending on how much assistance one may need from simple black and white boxes to any number of color combos and sizes. Users can utilize the audio assistance to navigate the search menu. Unfortunately this option does not translate inside of apps like YouTube. This is more likely an issue with standards on accessibility than anything else meaning maybe it will be improved on. Users may want to see how much using Google Home might help add accessibility options. Roku's latest updates allow for Google home devices to work on Roku products. Don't hold your breath for Echo integration though.
(Accessibility would be far easier if it were to include voice commands)
Video Options
Users have a number of preset video styles to work with once they have selected a video input or an app. Once in a Roku channel users can toggle between a number of presets like Sports, Movies etc as well as edit the full color settings. There are presets for brightness and other important settings but more discerning users can jump into the advanced settings and adjust color balance and all of the bells and whistles till their satisfied.
Picture quality
This all depends on what you are watching. True HD looks sharp as can be on the TV. But when things are filmed in standard definition you can definitely tell. It is almost in some cases galling how older non remastered programming looks. The 4k power kind of exaggerates the flaws of the older shows. But major networks look great and apps that play HD and 4K video look just fine too as well as video games.
How do you change Live TV channels
When it comes to channels via an antenna this is simple. You change channels by clicking up and down on the remote. The TV also has an integrated TV grid guide for your live TV channels. In the guide users can get info on which show is on at the moment all the way to around two days later. The Roku does not have a DVR built-in so you will not be able to set up recordings but you can see what there is to see. If you are using cable with a set-top box, it will probably be much easier to use the actual cable remote when in the TV mode. Don't get confused as to which controller you are using.
Cool Discovery Feature
Another very interesting feature in the live TV section grid is that the Roku TV will scan what is available on live TV and give users the option to watch the shows they enjoy on partner apps. If a show is available users will see a purple asterisk *   by the listing. Pressing the asterisk button will reveal a number of options to allow viewers to find other places to see a show. For instance if we click the button on an episode of Quantum Leap, you will see an option called "watch from beginning" and be shown Roku channels that feature the entire series this includes Hulu, NBC, Prime Video and Vudu. That is not to say that every option is free but you will see everywhere you can find it and decide whether a service is worth checking out. Other headings include "more like this" and "more episodes". More like this will populate with genre matches as well as era matches. So a show from the 90s like Family Matters may give you shows like Perfect Strangers or Just The 10 Of Us and then show you where to watch them.
Unadvertised feature
Pluto TV is an app that has been available on Roku for a long time. It offers a large selection of Internet-based entertainment options across a number of genres. That's nice enough. But on a Roku powered TV with an antenna set up correctly, Pluto TV automatically integrates your local channels into its interface as well. This means that users without cable can pull up Pluto TV and have access to their local TV and Internet TV all in one place. The feature has been available for some time now but I rarely see it mentioned in reviews for Roku powered TVs.
Final Thoughts
People started promising that one day TVs would be like computers and that computers would be more like TV's since the 1980's. That kind of transition is becoming a reality with the latest generation of smart TV's. The Hisense Roku Powered R6E TV delivers on that promise at a very affordable price. Would I recommend that you run out and buy one right now? That depends on whether you need a new TV. The advantage of getting a TV with the Roku OS built into the operating system is that if you don't have a smart TV already or don't have a streaming device already the TV and premium device come in one package. If you do have other streaming devices from other companies this means you all of a sudden have a whole new app store to take a look at and expand your streaming capabilities. As mentioned earlier integrating multiple devices with the TV is very easy allowing users to quickly put together a great home theater experience with little technical knowhow.
---
Trending Now