---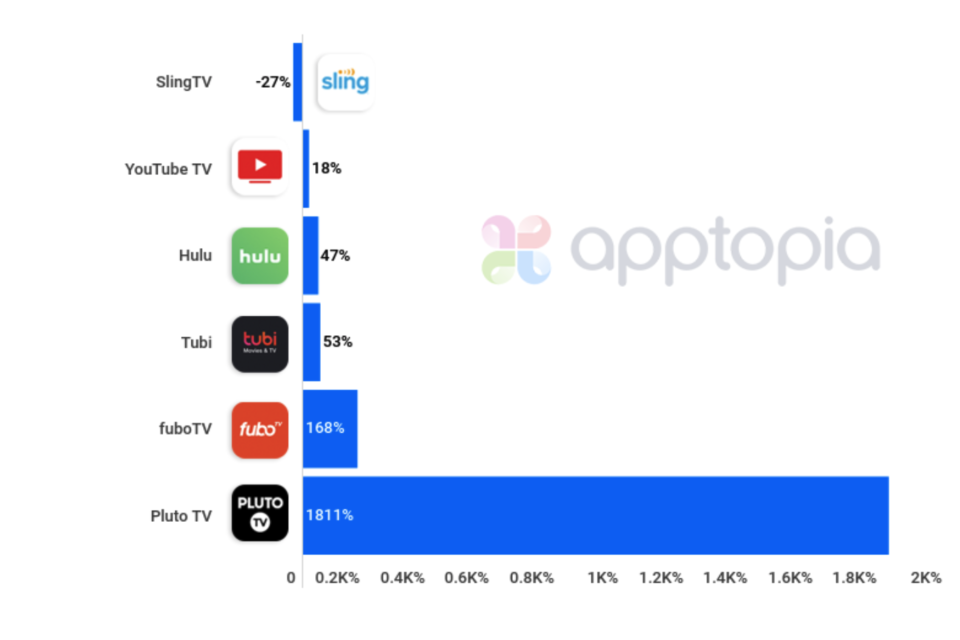 Whether they are paying for bulky bundles or eschewing programming costs altogether people are looking for more TV options. And the rise of streaming options  Pluto TV is adding viewers at a break neck rate according to research by Apptopia. The information comes as part of a study of cable TV alternatives that looked at downloads of live TV apps on streaming platforms. It is likely that Pluto TV was incorrectly assigned to the same category  with pay services being that Pluto TV is a free ad-supported option and the other services it was compared to in the study can cost as much as $85. Users may download Pluto out of curiosity as much as need or check it out because of positive word of mouth.
What the numbers show though is that there is a gigantic audience looking for free streaming options. The cord cutting trend has often been about cost. And nothing is cheaper than zero dollars a month. With well over 100 themed channels available across multiple app platforms Pluto TV has been well positioned to ride the wave as people look for new options. It has not hurt that the former startup was purchased by Viacom either as the new ownership has allowed Pluto TV to offer programming from Viacom's major brands like Nick JR, MTV and more. There are now dedicated channels to signature shows like Dora The Explorer and Cribs.
While Pluto TV should not be compared to YouTube TV, Sling TV and Hulu with live TV, because the former are paid services that provide existing cable channels, Pluto's mix of archival material, its curated channels and live Internet based networks gives viewers plenty to snack on throughout the day.
Image taken from screenshot from Apptopia.com
---
Trending Now