---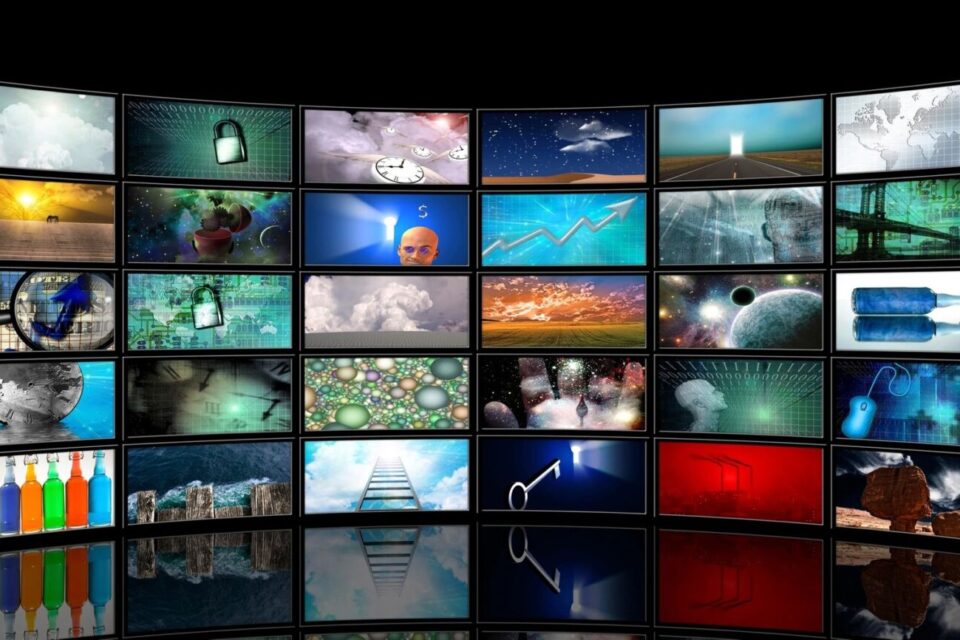 Let's just put this out from the top. There is not a legal way to get the full benefits and choices of a cable TV package for free. Anyone who says otherwise is misleading you. There are services that are built to be substitutes to cable TV like Sling TV, Hulu with live TV and such. But this is not what this article is talking about. This story is about free services users can add to their Roku that deliver content in the same way that cable TV and the various substitute services do without costing you any money. They offer program guides, On-demand content and in some cases they offer real over the air (OTA) broadcasts that are otherwise accessible via an antenna, at least in theory. You may not be able to get a broadcast channel in your area for any number of reasons.
We believe that the future of streaming will include premium services such as cable substitute services, premium apps like Netflix or HBO Max, branded ad-supported Video On Demand Channels (AVOD) like Crackle or Tubi TV  and a healthy dose of ad-supported offerings that aggregate content from multiple places into on-demand and channel offerings that seem like live TV. This is not difficult. Because aside from content that is specifically filmed in front of a live audience like sports, Saturday Night Live and programming that specifically says it is live, everything else on TV is actually recorded and played back at a scheduled time including multiple segments on live news.
What a majority of the services listed here do is pull content from streams of real over the air TV channels like Comet TV for instance, deliver internet based services like CBSN (an internet based 24 hour news service), or stream content from production libraries. This is where you see things like the Mystery Science Theater 3000 channel on Pluto TV. There is nowhere where it is playing 24-hours a day but the programming has been chosen and laid out on a schedule ahead of time. This is no different than the SYFY channel holding a Twighlight Zone marathon.
Overall these options can provide hours of entertainment with no need to sign up for anything. Take a look.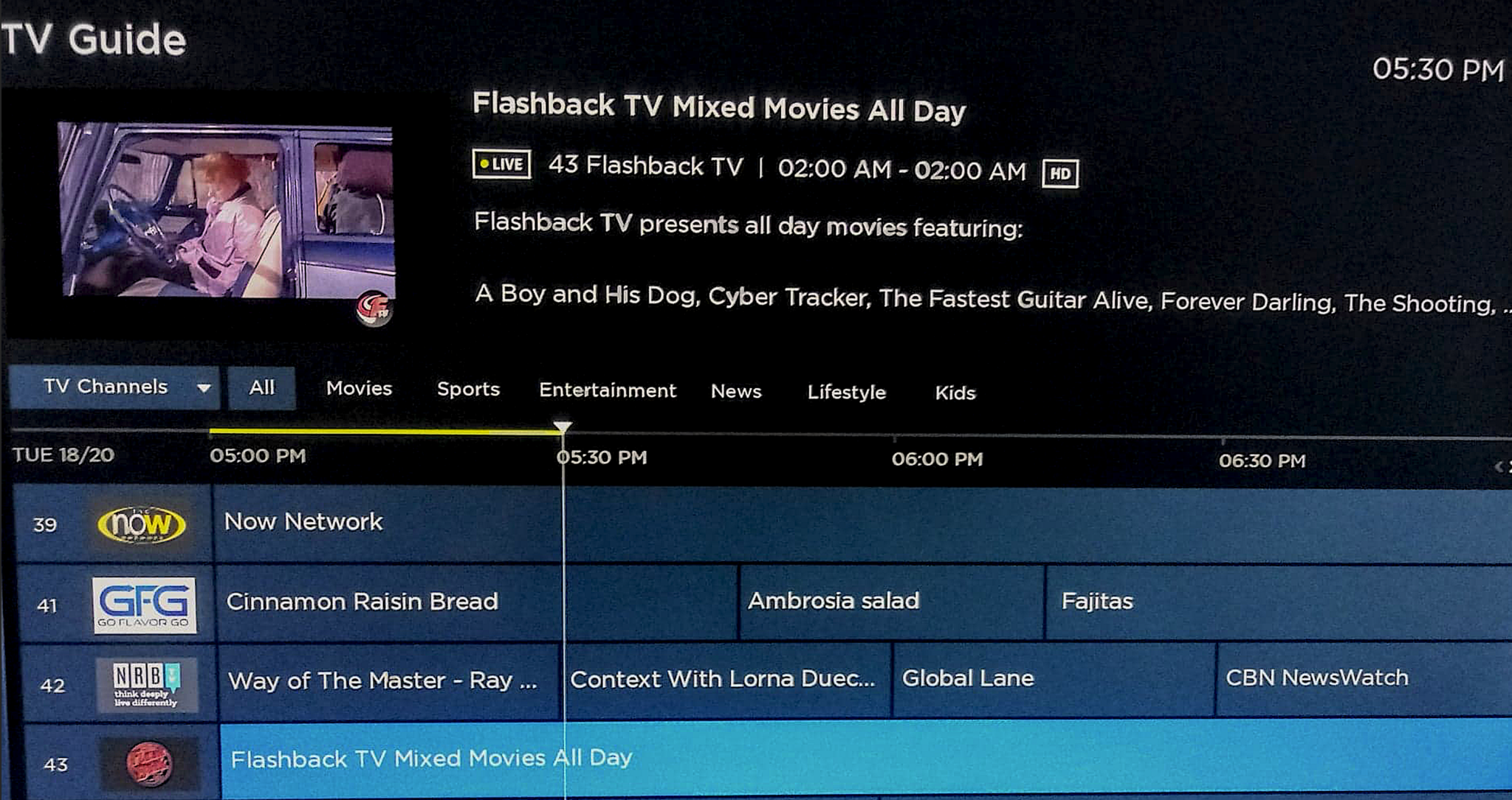 TikiLIVE
Obviously meant to be said as Tiki Live this option is an older entry that is employed by various private companies for its channel offering, but users can access it directly via its Roku Channel. While it advertises as "The Cable Alternative" in an attempt to justify its paid tiers, Tiki live is less a cable alternative and much more a simple way to get to some solid internet based entries. For instance NewsMax TV is a real highlight for those looking for more right leaning news. There are a number of channels that would fit the travel category programming like tours of popular beach destinations, there are kids cartoon channels and even a real jewel, a Prairie Home Companion channel dedicated to the radio program typically heard on NPR. Users can even flip through the channels like a traditional cable setup or access the programming grid. TikiLIVE has a very small selection of on-demand titles almost to the point of not being worth mentioning.
Pluto TV
Pluto TV is the premier version of this kind of Streaming option. The company spent years building up a large group of independent content partners from movie studios and news providers to libraries of content designed to just relax with. Pluto TV offers viewers multiple channels across multiple categories like you would find in a traditional TV lineup. news, sports, entertainment, and so on.  In the last few years the service caught the eye of Viacom, which bought it and has since used the format to build brand awareness of its properties with channels built around specific shows like Cribs, or Tosh.0 and numerous other properties from its collection of cable channels Nickelodeon, Comedy Central, MTV and others. The service also offers dozens of music channels both music video and stand alone music like Pandora. There are hundreds of channel options and the list keeps growing. On top of that Pluto offers a huge on-demand movie section. We expect this service to continue to explode as Viacom recently merged with CBS to form ViacomCBS. The free service has already played host to multiple episodes of CBS All Access offering Picard.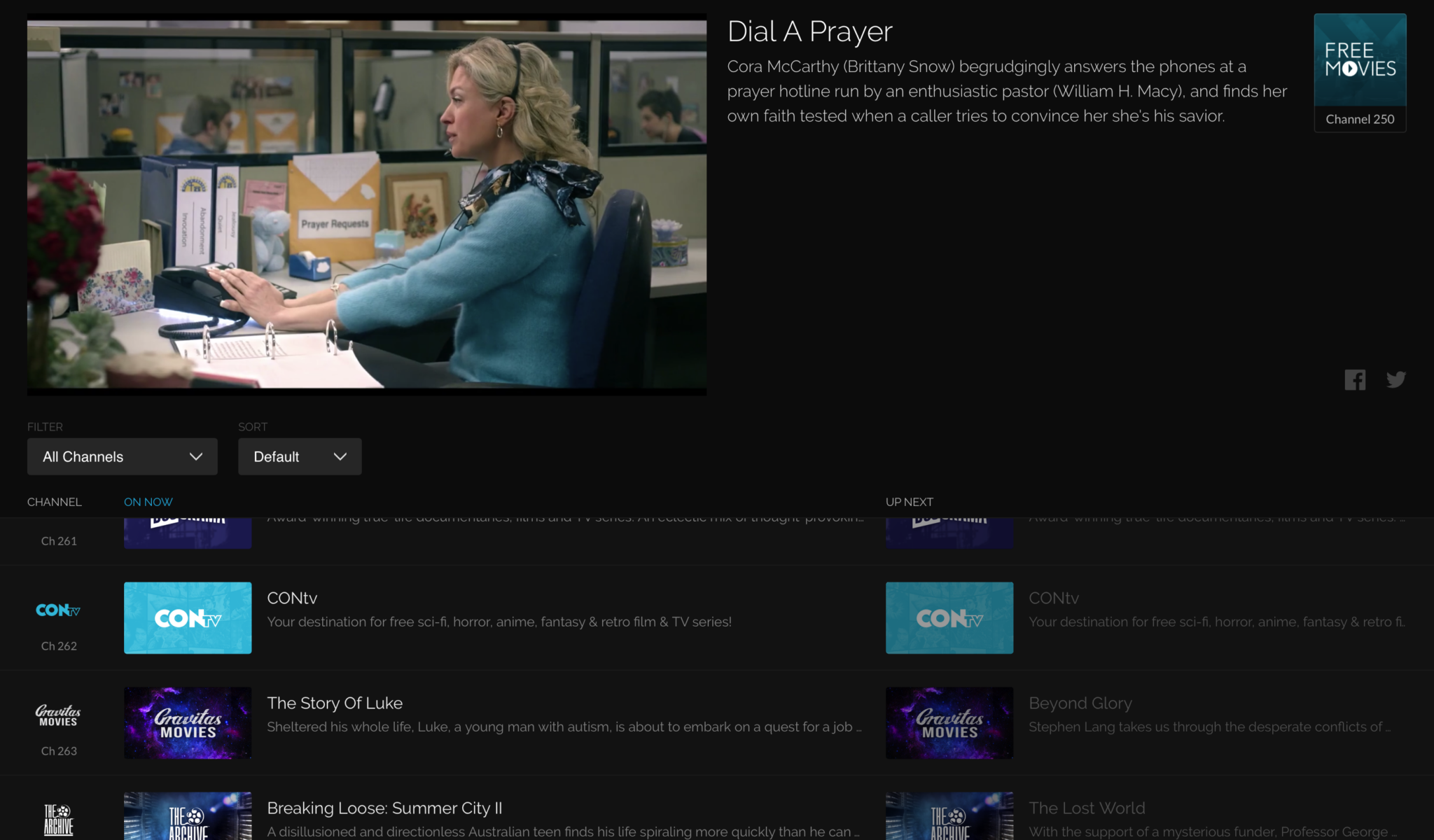 Xumo
XUMO is another trailblazer in this category. The service offers (according to our own count) 184 channels. Many built on top of curated content from multiple brand name partners and some via Internet generated services made for formats like XUMO. XUMO has built its reputation as a great partner to content distributors looking for a way to get their stuff in from of eyes across the world and it has done so not only via Roku but by being integrated in to multiple TV manufactures formats. You can find XUMO built in to Samsung TV's, LG TV's, TiVo and other major formats. XUMO covers the full range of interests with multiple sports, news, entertainment and pop culture based channels along with offerings that are just funny clips like Fail Army and the like. There are also some instances of lesser known OTA channels built right in. The company keeps growing its list of partners and has found success as well through on-demand movies.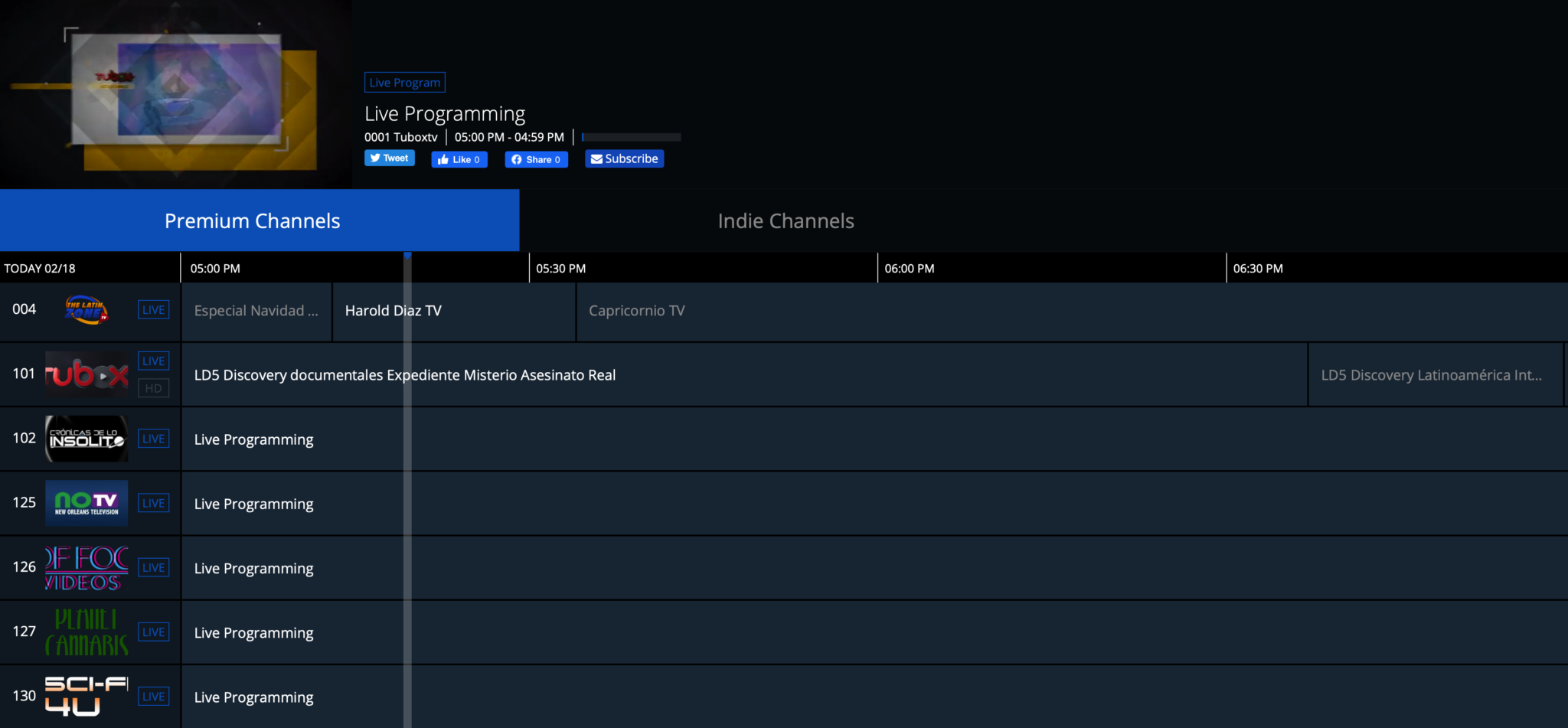 Tubox TV Live (All your favorite channels in one app)
104 channels from multiple categories set up to feel like traditional channels. Are all your favorite channels going to be available. Well I mean if their selection happens to be your favorite channels then yes. But Outside of BYU TV, Bloomberg Television and Cheddar, two internet based TV stations which are found on a number of cable services it does not include many other recognizable channels. Does Tubox TV provide some value? Sure. The channels include the good ole Weather Channel, 24-7 channels based on popular TV shows, along with travel based channels, Sports news and programming for kids and even movie channels.
Zypy.TV
Zypy.TV is a selection of content with a heavy dose of music. The and a few very unique channels. It's most distinctive offering is a channel called Rasslin. This of course is a pro wrestling feed that delivers matches from a huge period of time from the 1950s through the early 80s. It is sort of a random wrestling time capsule. There is an Ozzie & Harriet dedicated channel featuring, you guessed it the old TV show Ozzie & Harriet as well as a Beverly Hillbillies channel. Where it shines is in its music channels. This is hardly a cable replacement and does not advertise as one. But its eclectic mix of options could certainly strike just the right chord with some people.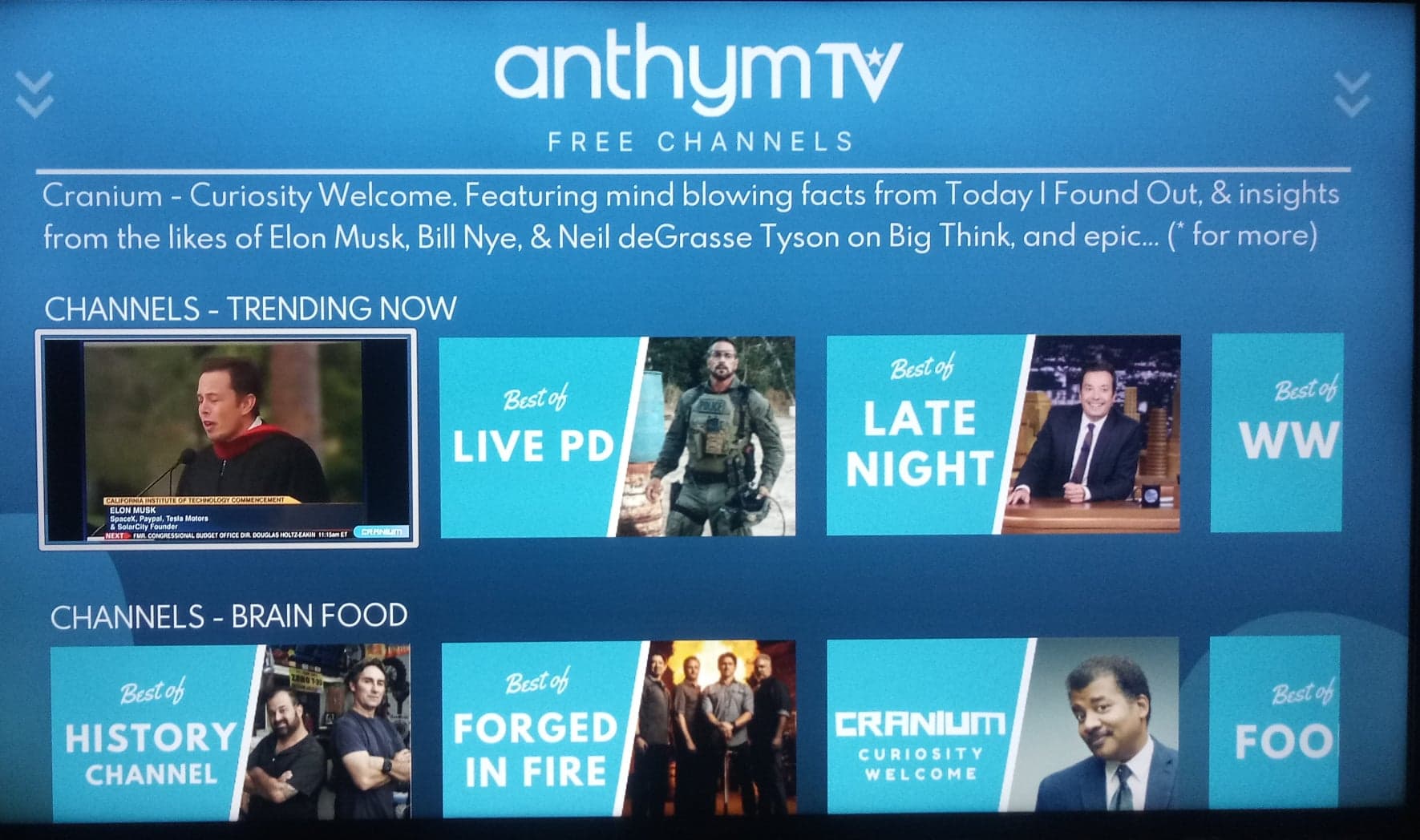 AnthymTV
Anthem is a little different than the other selections on this listing. It provides name content. We are talking like CNN, CBS, The History Channel and A&E. The stuff you will find on these channels is not a live feed of the channel. So you can not just tune in and see a specific show and expect to find the same thing playing on a proper channel. But if you are looking for a place to binge certain types of content from name brand sources, this will do it. Unlike the other choices on this list there is no grid, nor is there any way to identify the programing that is playing on a deed at any given time. The user just has to understand that if they click on say The Best of ESPN/FS1 they will see segments from those channels in no particular order. The good news is that for timely things like sports, the content appears to be current. You will not click and find a debate over the tuck rule. Users can choose to browse via a basic carousel layout or flip through options the old-fashioned way.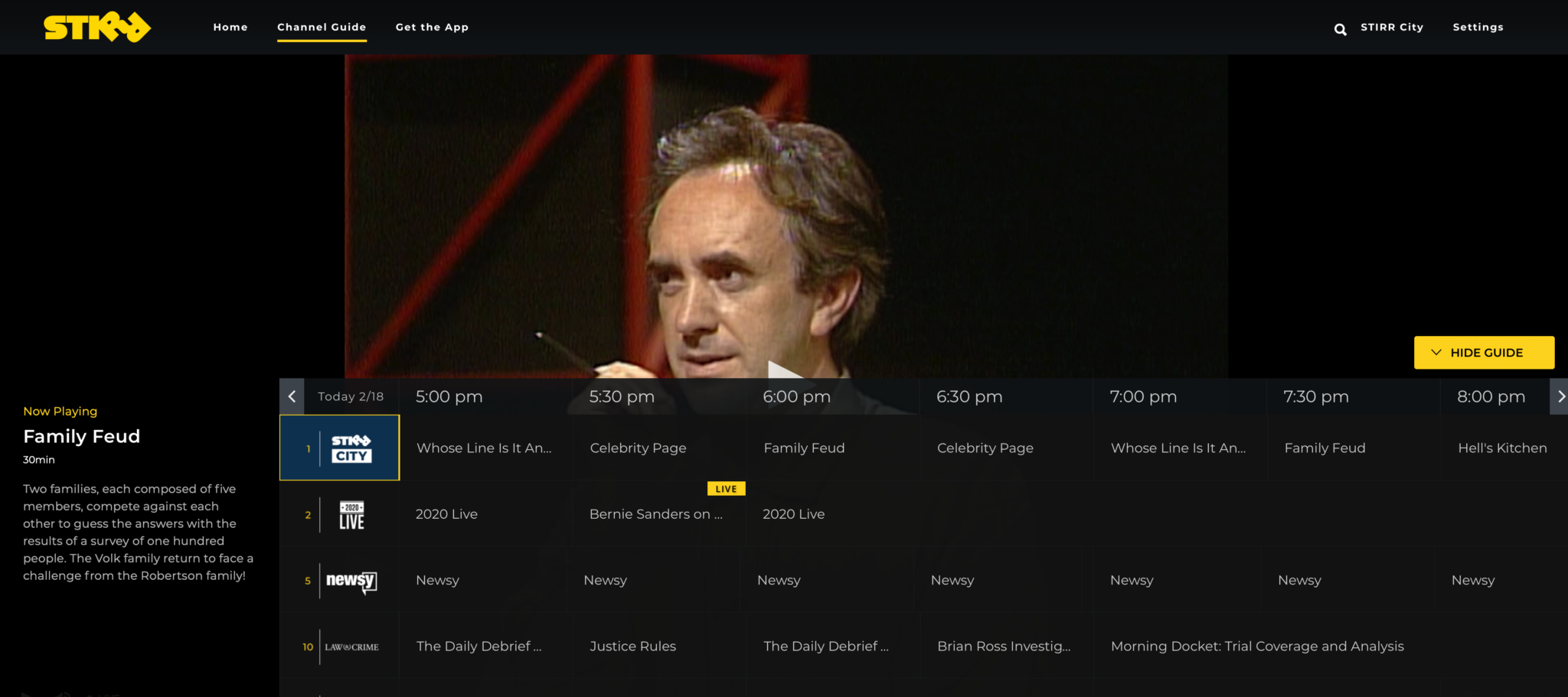 STIRR
STIRR is a streaming option from Sinclair Media, a major media company that owns traditional broadcast channels across the country. By leveraging the ownership of so many stations in so many markets STIRR is able to offer local newscasts in multiple geographic areas. One of the most interesting aspects of STIRR is the number of OTA channels that are offered as part of its guide. BUZZR, Charge, Comet, TBD and Stadium. These are options that can otherwise be brought into the home via an antenna if the circumstances are ideal. In the past year STIRR has added multiple other partners to the mix to provide a dynamic group of options that it showcases with branded channels that mix and match content from all of the providers in its own Stirr channels like STIRR Action, STIRR Westerns and such. The ability to deliver local news to communities across the country is probably the biggest stand out quality of the service. With backing from Sinclair Broadcast Group we expect STIRR to grow bigger and bigger in the next few years.

Bumblebee Free TV
Bumblebee TV is another streamer with a large selection. Its main drawback is its color scheme. It is almost all black and white. It offers 92 channel selections. A number of them are from branded names like say "PopcornFlix", or "Pluto TV". Some channels are feeds of nature scenes for relaxing background noise. I jumped on one called Live Waterfalls and let it play. What we got was a picture of a pretty waterfall with music in the background broken up by very frequent commercials. There are a number of categories and programming choices. The biggest drawback is there is very little specific information provided in the grid. For instance in the Pocorn Flix action channel you will not get a description of the movie playing.  This goes the same for most listings.
---
Trending Now
You may also like