---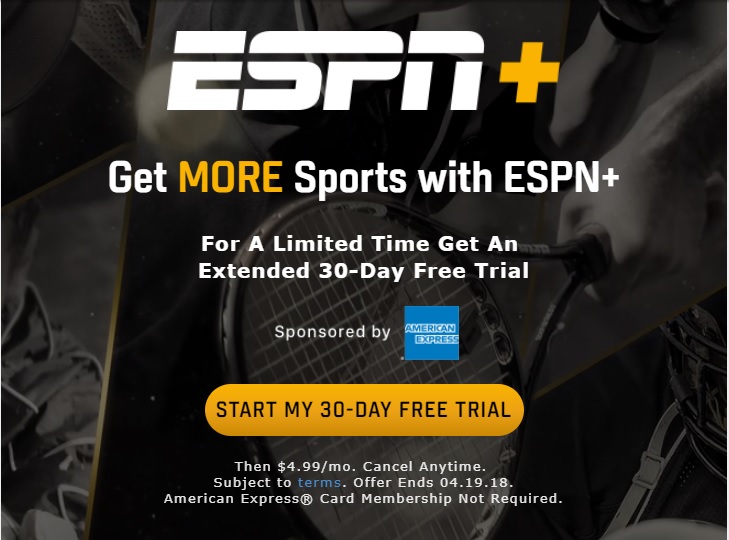 ESPN + or ESPN Plus is now available. And even better there is a 30 day free trial available to check it out. The new offering by Disney is the latest way Disney will be approaching the changing TV landscape and will offer a number of choices outside of the purview of ESPN's main network offering. Unfortunately, there is very little in the way of How To Sign Up For ESPN + on the ESPN website.
How To Sign Up For ESPN +
You can sign up for the service by updating your mobile app or even deleting it and downloading again. But the least frustrating way to do so may be via a computer.
Signing up via the ESPN App
First of all depending on what device you have take note. On mobile devices, you do not access ESPN + via the "Watch ESPN App" You will need to download the "ESPN" app. This is the one that was primarily used for scores and highlights. The "Watch ESPN" app is still in many cases set up to be a TV everywhere app for subscribers to the TV Network. Also be sure you have an ESPN account already.
Download the ESPN App.
Click Login (or create a login).
Choose whether you will sign in with Facebook or an email
Enter your email address or follow the Facebook prompts
Enter your credit card info
Click on the Play button or where it says Introducing ESPN +.
To start your free preview click on any video and you will be prompted.
Signing up Via a Computer
You will need to type in a lot of info so this is the easier way to do things.
First go to the ESPN website here.
Look for the profile icon on the right-hand side of the screen
Click the icon
Click on Log In
Sign in with an existing account on the top section of the window or create one on the bottom section. Don't get confused as to which one you are doing.
If it turns out you had a sign in name from years ago click forgot username or password.
If you are creating an account choose to create it with an email or Facebook. We recommend email.
7. Enter your email and a password you will use to sign in, not your email password.
your email will be your sign in name.
8. Follow directions and enter your credit card info.
---
Trending Now