---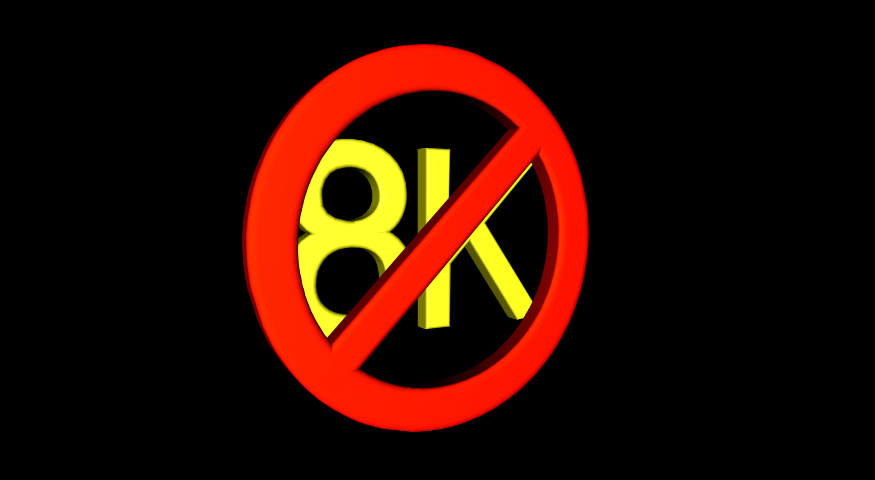 I've been reading a lot of articles online regarding the upcoming 8K quality pictures becoming available on TV sets, many of them forwarded to me from people who disagree with me when I say that it won't work or that it's impractical to have.
Now I acknowledge that many of my reasons for its potential failure is in large part due to undeveloped technology that could easily become available in the future, but please allow me to present my argument in full before you tell me that I'm wrong. It all comes down to 8K quality TV sets are obviously impractical for consumer use.
Note the key words here are impractical and consumer…
I have no doubts that 8K will have some major commercial appeal.
Picture quality
I don't think that the majority of the public can tell the difference between 4K and 8K quality. I realize that many journalists disagree with me, but I would like to point out the obvious. Professionals are much more discerning than the general public at large is. Your average car buying public isn't going to notice the additional 2 inches of trunk space that the Toyota Corolla has over the Honda Accord or the additional 10 lbs of torque that the Ford F150 has over the Chevy Silverado. There will be a segment of the population who will find it important, but your average car buyer is looking at other issues. So while these numbers may be valuable, on the whole they are not a large enough difference to sway the general public into picking one vehicle over the other.
In the context of picture quality on your TV screen, going from your older analog TV's from the 80's and 90's to the HDTVs of today was a significant improvement in picture quality. It was nearly twice the quality of the analog TV of the previous 50 years. The majority of the viewing public can distinguish between VHS or DVD quality and Bluray quality without much prompting, but going from HD to UHD (4K) quality created a much different debate than the analog to HD flat screen.
While many viewers could tell the difference between 480p and 1080p, most tech journalists noted that the biggest difference in picture quality between HD and 4k was in large part due to HDR, or High Dynamic Range.
Not to say that 4k TVs don't sell. But today for average consumers the biggest attraction isn't that you're getting a 4K TV with improved picture quality over the regular HD TV of the past 10 or so years. It's that you are getting a 4K TV for under $1000, and in many cases under $500. And those TV's have HDR. We're still not seeing a huge rush to get the latest Marvel movie in 4K to 'see it in all of its glorious 4K quality'.
We are quickly falling into a category where a significant portion of the public cannot see a difference between HD Bluray quality and 4K quality, so its likely an even larger portion of the public will not notice a difference between 4K and 8K.
Limited Embracing of 4K
At first glance, 4K isn't all that in-demand. Mainly because you need to have the ability to actually view content in 4K in order to see where it's available at. Get a 4K TV set with a device that will support 4K quality and Netflix will tell you what movies are in 4K. Not having either of those two items and Netflix won't waste your time showing you what it has in 4K.
Not readily anyway.
Dare I say that the only way that you're going to have access to 4K quality, for some time I believe, is through online streaming or buying a 4K disc. Broadcast television isn't going to be quick to adapt to 4K quality because of the technical considerations that they must face. Embracing 4K quality could mean that they would need to rid themselves of the digital sub channels and still be required to compress the video enough to be broadcast. Combine that with absolutely no guarantee that the local cable company would carry the 4K broadcast and or that they would most likely compress it even more, it would mean that would not get anything a whole lot better than the quality of a modern Bluray.
Not an attractive predicament to put yourself in. Especially considering that those few people who would notice the difference between HD and 4K would be upset that its not giving what they know to be the full capabilities of the format.
Why would a broadcast network put themselves in that predicament when they are loosing money from cord cutting and the name of the game is getting viewers? Digital sub-channels permit the local networks to expand on its potential audience. Upgrading to 4K, at this point in time, only limits it. The only way that the local networks can adapt to 4K quality is if the FCC gives them larger frequency ranges to operate in. This is a very unlikely proposition when you consider that the FCC has recently allotted a large portion of the public broadcast frequencies (OTA TV and Radio broadcast ranges) to be used for corporate uses like the upcoming G5 cellular network infrastructure. The FCC needs to space these radio and TV broadcasters out enough so that they are not getting overlapping coverage which causes interference. Or look at it this way. Montana, North and South Dakota, Colorado, Nebraska and Utah are more likely to get 4K broadcast television than New York, California, Ohio and such because of the limited number of broadcasters in these regions.
4K is and will continue to be widely embraced on streaming platforms. It is already being featured on FuboTV. But in order to do that you're going to need to have about 15 Mbps download speed in order to get to 4K streaming quality. While most ISP's do provide you with the speeds needed to meet that requirement, the current cable companies embracement of the data caps model means that you'll only be permitted to watch a very limited number of movies each month before hitting that cap. Few individuals are going to do that for 4K quality.
Keep in mind that I'm currently talking about 4K… We've not even gotten to the problems in this area that 8K would create.
Screen size
I believe that this is going to be the final nail in the coffin for the refusal for the typical consumer to embrace 8K TV's. Each time I've looked into this topic I see it over and over again, that the minimum size TV set required to appreciate 8K quality picture is 80 inches.
Think about that for a moment… the minimum size TV set that you'll need in order to fully appreciate what 8K has to offer is an 80 inch TV.
That means you'll need a TV set that is 39.1 inches high… or 3' 3.1" high. Kenny Baker, the actor who played R2D2 stood only 3' 9" tall. In order to appreciate the full quality that 8K picture has to offer, you are going to need a TV set that is only three inches shorter than the actor who played R2D2 in the Star Wars saga. But I'm not finished here… this 80" TV set is going to be 69.6 inches long… 69.6 inches long!I stand 5'7", to convert that to inches means that I stand 67 inches. You'll need a TV screen that is wider than I am tall.
In order to appreciate what 8K has to offer, you'll need to have a TV that is almost as large as a single mattress… at minimum!!!!
While I'll admit that I would love to have a TV that size, I find myself asking a simple question…
Where the hell would I put it?
In my apartment I have only one wall that would meet the requirements needed in order to mount it and its a freaking hallway!!! Unless of course I'm willing to cover up my living room window. Which I am. But I'm single. I dare a husband to say to his wife "Honey… I really want this large screen TV set in the living room and I'm going to mount it over the living room window… n'kay?" If you do, please record her reaction because I really wanna see it, and if she is okay with it, introduce me to her sister.
While I'll admit that there are several homes where you would be able to mount a TV of this… minimum size… they are far and few between and will often result in the average person's living room being organized in a specific way to accommodate it.
I can see it now. Samsung introduces the new 8K TV set to the general public via Best Buy and within days more than half of the TV's sold are returned due to customers being unable to find a place to put it or threats of divorce.
That's not to say that I don't see commercial applications for this. Yes, I think that the average school would look at purchasing a 130" TV set in various locations that supports 8K quality, hanging a 130" TV set behind the glee club showing various winter scenes while they are singing Christmas songs has the type of appeal that creates a market for 8K quality. Major hotels that rent out spaces for conferences could also have a market for 8K quality TV's.
I think that the most prohibitive thing about 8K quality isn't due to the picture. But due to the storage needed to provide it. A raw 90 minute video in 8K quality is roughly 18 thousand GB in size. A 4K movie on disc is roughly 50 GB in size, 8K could easily top out at 150, possibly 200 GB. So in order to watch an 8K video you'll need a disc capable of storing 200 GB of data.
That's almost the same size as the hard drive in my laptop I purchased in 2010!
But if we could get a disc or flash drive that is able to store 200 GB of data, what do you think would contain more appeal to the general public? 1 movie that is 8K in quality, or one disc that has the three Planet of the Apes reboot in 4K quality? Or… and here me out here… a single disc that has all of the Planet of the Apes movies in Bluray quality?
As I stated, I do believe that the 8K TV's will have appeal limited to the commercial market but a very limited appeal in the consumer market.
---
Trending Now